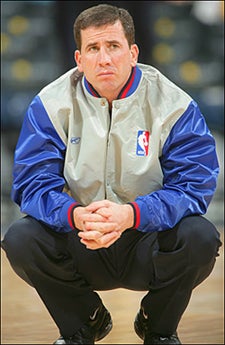 Details of Tim Donaghy's exploits as a crooked NBA referee are beginning to emerge from the governments investigation, and the NBA must be thrilled. The New York Daily News is reporting that Donaghy influenced upwards of 100 games during his career.
"The government's investigation revealed that Donaghy provided picks for anywhere from 30 to 40 games for each of those three seasons," Assistant U.S. Attorney Jeffrey Goldberg said in a letter filed Friday in Brooklyn Federal Court.

Donaghy received $5,000 for each winning pick, according to betting buddy Thomas Martino, who pleaded guilty last month along with James Battista to participating in the scheme.
Not a bad way to earn a living, if you're the anti-Christ.
Additionaly, RJ Bell of Pregame.com seems to believe Donaghy and his accomplices were pretty damn efficient in their untoward doings.
The first 15 games of the 2006-07 refereed by Tim Donaghy that had big enough betting to move the point spread by at least 1.5 points were UNDEFEATED against Las Vegas meaning that the big money gamblers won a 15 of 15 times on his games. The odds of that happening randomly are 32,768 to 1.
It's one thing to screw with NBA games, but how dare this asshole sully the good name of gambling?!