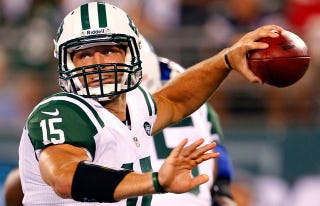 Regardless of your personal feelings toward one Tim Tebow, it can't be denied that he's good at getting people to talk about him. In politics, that kind of innate skill that can come in handy at opportune times. Combine that with his very clear views on certain topics and it's not much of a surprise to hear he hasn't ruled out tipping his toe in political waters when he's finished with his NFL career.
Rich Cimini of ESPN New York has Tebow's response, part of an extensive Q&A he conducted with the league's most famous second-stringer:
Q: With your popularity, especially in Florida, would you ever consider running for political office after you're done with football?

A: I haven't ruled it out. Whatever avenue I feel like I can make a difference in, I'd love to do. I haven't ruled out anything like that. It won't be anytime soon in my future, but it'll be something I'll at least look at and consider one day.
Obama loves him. Republicans love him. Seems like it's only a matter of time, you lucky Floridians.
Tebow's drive: To make a difference [ESPN New York]