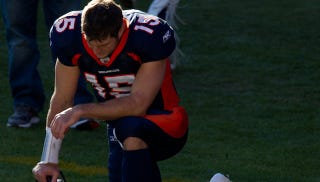 If there were any doubt about Tim Tebow's portrayal in the press as the living embodiment of Jesus Christ, this write up of a question and answer session Tebow gave this afternoon is the final nail in palm. Maybe it's deliberately tongue in cheek, but forgive me if I have my doubts.
Tebow was on hand at Celebration Church, a megachurch some 20 miles outside Austin, Texas before a crowd of over 15,000. He spoke on a whole range of topics including the role model status of professional athletes—you're a shitty role model Sir Charles—as well as his proselytizing and fundamental misunderstanding of "what this country was based on."
The event, that lasted about 20 minutes, was given a name: Easter On The Hill. Tebow is described as having a "flock of admirers." A good half of the article is spent detailing the various pilgrimages taken by those admirers who wanted to catch a glimpse and hear the man speak. Like, for instance, "lifelong" Broncos fan Debbie Sandoval.
"I love that boy. ... He's like my third son," said Sandoval, who is not a regular member of the church but wasn't going to miss a chance to hear Tebow speak. A self-described "lifelong Broncos fan," Sandoval said she became a Jets fan because of Tebow.
Tebow voluntarily requested the time to address the crowd, it just so happened that Easter Sunday was the day that worked best. It's time Tebow stop being praised for not being afraid to speak openly about his faith and everyone acknowledge that he actively seeks it out. He's not responding to reporters' questions, he is scheduling speaking engagements on Easter Sunday to talk God, role models and politics. He's certainly well within his rights to do it, but lets stop portraying Tebow as some aw shucks-y charmer. He is a savvy evangelist with the world at his fingertips.
"In Christianity, it's the Pope and Tebow right now," Celebration Church pastor Joe Champion he said. "We didn't have enough room to handle the Pope."
Jesus Christ.

Tebow draws big crowd to Texas Easter service [AP]