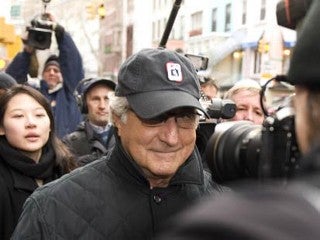 Bernie Madoff's Opening Day Mets tickets are now on sale. Don't worry; nine innings with the San Diego Padres will only seem like a prison sentence.
It's all unfolding on eBay this very minute, where the bidding for the two Delta Club Gold seats is at $1,500 (deadline Sunday). If yours is the winning bid, you have to pick them up. But don't worry, the trustee overseeing the liquidation of Madoff Investment Securities now owns them.
As of midnight, the current bid was $1,500 for the tickets, seats 5-6 in the eighth row in section 11, just to the home plate side of the New York Mets' dugout. There was a deadline of 9:56 a.m. ET Sunday to bid for the seats, which are called Delta Club Gold and come with access to the Delta Club behind home plate. The tickets retail for $525 apiece, and 13 bids for the pair had been made. The next bid would have to be at least $10 more.

Lawyer Irving H. Picard worked out a deal with the Mets, returning to the team two $695 seats in the second row, called Delta Club Platinum, in exchange for the pair being sold on eBay. Links for other April tickets to be sold will be posted on Picard's website, www.madofftrustee.com.
The Madoff tickets are a little beyond my means, but you are now looking at the new owner of a David Wright soft-sided lunch box.
Strictly Legit: Madoff's Tickets On Sale On eBay [USA Today]
New York Mets Tickets Opening Day [eBay]