Bryant McKinnie went on his Baltimore radio show Wednesday to deny most of the details in TMZ's report about his birthday party. (In case you forgot, it involved Jacoby Jones getting hit on the head with a champagne bottle on a party bus by a stripper named Sweet Pea.)
McKinnie said he and some friends and some Ravens teammates did indeed take a bus to D.C. on Sunday night to celebrate his birthday. But he insisted there were no strippers aboard, and that while Sweet Pea—who says she's a waitress—did get into a verbal confrontation with someone other than Jones or McKinnie, no one hit Jones on the head with a champagne bottle.
McKinnie also revealed that he knows who TMZ's source was—because someone at TMZ gave him her name.
Here's what McKinnie had to say on his show on WNST:
"I have a friend at TMZ, but she's on maternity leave," McKinnie said. "Normally, if something like this would go out, I would get a phone call first, and she would say, 'Well, what's going on?' But she wasn't at work, so I didn't get the phone call.
"She hit me up after the fact, and she actually told me who sent the story in. And that's how we found out—me and Jacoby both found out—who it was. It was a girl who just doesn't have a good reputation. I don't even know how she managed to find her way on the bus. I don't know she might have got paid for the story or whatever."
G/O Media may get a commission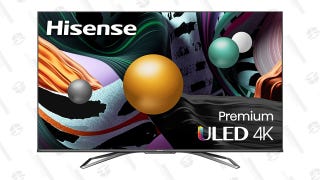 Save $350
Hisense ULED 65" Android 4K HDR Smart TV
So, hey, potential tipsters with juicy stories: Don't give that shit to TMZ. They'll totally rat you out if it's an athlete with whom they've curried favor. Send those stories this way instead. Your anonymity is always safe with us.
[WNST]
Photo: Associated Press