It's that time of year again: The time when NBA teams, secure in their playoff destiny, start phoning in their remaining regular season games. But are these millionaires really just robbing you, John Q. Slob, of your hard-earned minimum wages?
LeBron James has spent the last three Cleveland games in street clothes, because he just didn't feel like playing. The Cavaliers have sewn up home-court advantage through the Finals, so there is nothing to be gained by expending any effort in the final week of the regular season. Of course, fans who came out to watch those games—including those on Fan Appreciation Day against rival Orlando—still have to expend their wallets to get in. Not only did they not get to see their hero, those people basically paid full price to watch their team forfeit. (Cleveland lost all three games.)
Hoops writer Tim Povtak calls this "arrogance at the NBA's worst" and says he will give his MVP vote to someone who tries a little more. Others say that's ridiculous. James' first priority is to win the NBA title and that's more important than risking injury in a meaningless game to satisfy a few grumpy old sportswriters. Plus, he earned those nights off by being so awesome the rest of the year.
On the other hand, Michael Jordan played 82 games nine times, which included many contests where his presence meant nothing. Don't you want to be more like Michael Jordan, Bron-Bron? Or Kobe Bryant, who gritted out most of this season with a broken finger and a bum knee ... even though he, uh, will sit the last two games to rest up for the playoffs. But Dwight Howard isn't hurt or playing for anything meaningful, yet he's still suiting up every night. Which is probably why former Orlando Sentinel writer Tim Povtak wants to make out with him. Get a room, already.
The truth is that most fans don't really care. Except for those that do. Have you ever gone to a game hoping to see your favorite player only to find out after the national anthem that he's not in the lineup? It sucks, doesn't it? But so does not winning a championship, because your leader sprained his ankle against the Pacers. And no matter how much you paid to watch a game you would never ask for a refund just because it didn't go exactly the way you hoped ... even though it would sure be appreciated. If you only get to one game a year, it'd be nice to get the full show.
G/O Media may get a commission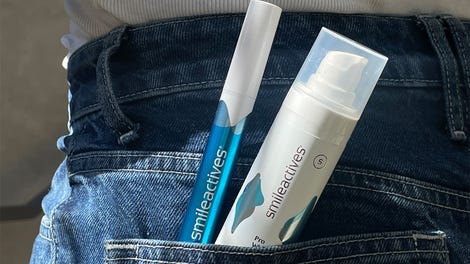 58% off
Whitening Powerhouse Pen & Gel Duo
Maybe LeBron James doesn't owe the people of Cleveland anything. Or maybe he owes them EVERYTHING. After all, they buy the tickets and the shoes and the jerseys—including the ones they'll be forced to buy again when he changes his number/team next year—and that is the money that allows him to play basketball for a living.
Yeah, I'm going to go with that one. Playing a game is your job and you get paid a lot to do it. Show up to work everyday, ya bum.