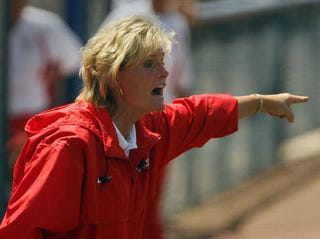 An insidious trend is developing in Wisconsin. First it was Montee Ball and his $429 ticket for trespassing at a block party. Now comes news that the varsity softball coach at Oconta Falls high school, Dawn Larsen (not pictured), was given a $177 citation after a parent complained about her potty mouth.
According to the police report, parent Bruce Liesner said Larsen's "language caused a disturbance because people were looking and that whole team is in the dugout and could hear what Dawn said."

Larsen, who has been softball coach for 12 years, said by email that her attorney suggested she not comment on the matter.
That sounds terrible. All the looking people and disturbances shall not be tolerated in Bruce Leisnar's fair state of Wisconsin. Pray Bob Davidson never umps another Brewers game, Bruce. But still, smart move listening to your attorney, Dawn. When in doubt, don't say shit.
This intolerance shall not be...tolerated, however. Are you from Wisconsin? Are you being arbitrarily ticketed for minor infractions? Please, drop me a line. Wisconsin must be stopped.
h/t Tim H.

Oconto Falls softball coach Dawn Larsen cited for swearing at players [Post Crescent]