Tom Brady, fresh off absolutely destroying the Colts, flying to Indianapolis to beat up their children, then salting the Indiana earth so that nothing will ever grow again, addressed the NFL's pending investigation into whether the Patriots illegally deflated footballs, and just as quickly dismissed it.
The NFL has confirmed the investigation, and the latest report claims that "several" balls were removed from play—not just the one caught on video at the beginning of the second half. But Brady says he doesn't know a damn thing about it, and called any suggestion that the Pats were cheating "ridiculous."
In an interview with WEEI this morning, Brady laughed this one off as yet another example of haters hating, as is their wont.
Brady said he was not aware of the report, claiming, "I have no idea" what the controversy was about.

"I think I've heard it all at this point," he said with a laugh.
Added Brady: "That's the last of my worries. I don't even respond to stuff like this."
G/O Media may get a commission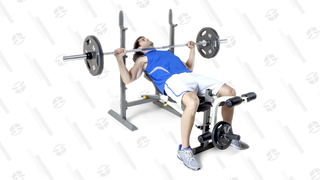 10% Off
Marcy Folding Weight Bench
We'll see if Brady chooses to maintain that silence when he's called before the special Congressional committee tasked with investigating this, surely the most nefarious and pressing scandal facing our nation.
[WEEI]