There are no alternative facts. Even dead-ender Steelers fans, the ones who kept insisting he's just some pretty boy cheating cheater, can no longer hide from this reality: The Steelers belong to Tom Brady.

The best sports movies according to Toheeb Jimoh
For 16 years, virtually without fail, Brady has been able to humble the Steelers into submission, to grind them into dust, to transform them from a proud, swaggering franchise into a sad caricature. I say this as a card-carrying dipshit Yinzer jagoff. The Steelers have given me more joy than any sports fan deserves, so I'm not seeking sympathy, and I certainly don't expect to garner any by what I'm about to write. But whenever the Steelers are about to play Brady and the Patriots, I am consumed with a sense of dread. I feel like I might as well be rooting for the Browns.
The numbers are staggering. Brady is now 10-2 against the Steelers, including 3-0 in AFC championship games. In all games against Pittsburgh, he's completed 70 percent of his passes, with a passer rating of 115.1, and an adjusted yards per attempt of 9.40. (Ben Roethlisberger's AY/A in 10 career games against the Pats, by contrast, is 7.43.) For context, Brady set an NFL record this year with a touchdown-to-interception ratio of 28:2. His career ratio against the Steelers (29:3) is likewise in rarified air.*
And while it's a smaller sample size, his numbers are even better in the teams' three postseason matchups: 71.6 percent completions, five touchdowns to zero picks, a 118.6 rating, and a 9.95 AY/A. (In 33 career playoff games, Brady has a passer rating of only 88.7, and his AY/A is just 6.73.) The Ravens, Broncos, and Giants all have multiple playoff wins against him. But with the Steelers, it hasn't mattered whether the head coaches have been Bill Cowher or Mike Tomlin, whether the coordinators have been Tim Lewis, Dick LeBeau, or Keith Butler, whether Troy Polamalu's been in the secondary, or James Harrison's been at linebacker. It also hasn't mattered whether Brady's been throwing to Deion Branch, Randy Moss, Rob Gronkowski, or Chris fucking Hogan. The Steelers can't stop him.
G/O Media may get a commission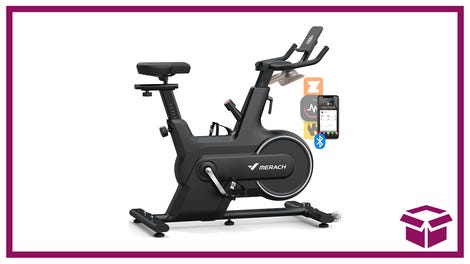 14% off + Coupon
Merach Indoor Cycling Bike
The Patriots' offense seems perfectly designed to beat Pittsburgh, no matter the personnel. In seven seasons from 2004 to 2010, the Steelers' D ranked in the top three in DVOA five times. They operated out of LeBeau's 3-4 zone blitz scheme, which relied on a big defensive line to eat up space and to contain the run, inside linebackers who could roll to the ball or blitz, edge rushers who flew toward the quarterback, and another outside linebacker like Clark Haggans or LaMarr Woodley who did a bit of everything, including play in coverage. The secondary was mostly smaller players who could deliver big hits, including physical corners. LeBeau's defenses thrived on bringing pressure, and on being unpredictable. He also had the personnel to execute it. Brady gave it problems because of his ability to read coverages, and because the Steelers sometimes struggled to get any kind of pressure on him. Here are two long Brady completions to Branch from the 2004 AFC Championship Game, a night so cold I remember the beer freezing atop the drains beneath the taps at the Heinz Field concession stands. But on both plays, Brady used play-action with smashing success:
Brady and the Pats were the forerunners for this decade's trend of spread offenses—the stuff that exposed aggressive defenses like LeBeau's and Rex Ryan's. But the roots of the Pats' use of slot receivers and crossing routes really dates back as far as 2007, when they acquired Wes Welker.
The complexities of LeBeau's defenses relied on veterans, and the Steelers did their best to retain many of their accomplished defensive stars through the years, a departure from a time when they allowed established talents like Chad Brown, Kevin Greene, and Rod Woodson to walk. But as those veterans in recent years aged, the defense creaked and croaked. By 2014—LeBeau's last in Pittsburgh—it ranked 30th in DVOA.
Butler, LeBeau's successor, was his longtime linebackers coach. Butler has built a defense out of the same 3-4 base, but with an emphasis on greater versatility and fewer reads. Like many teams, Butler's D plays a lot of nickel. It has smaller, faster linebackers like Ryan Shazier, and bigger corners. It also plays a lot of zone. But as I'll show soon, Brady on Sunday had no trouble solving it.
---
The Steelers have had more than their fair share of success. But all three of their AFC championships in the Brady-Belichick era were won by avoiding having to play the Pats. In 2005, the Broncos knocked off New England in the divisional round. In 2008, Brady missed all but Week 1 with a torn ACL. And in 2010, Rex Ryan's Jets did the Steelers a solid by eliminating the Pats so the Steelers wouldn't have to go to Foxboro for the AFC Championship Game. This in no way diminishes what the Steelers achieved—they deserved to win those two Super Bowls and to get to a third, and none of it was easy [Editor's note: Here, Dom, have a medal]—but it will always be notable that they never once had to beat New England to make the Super Bowl.

Through the years, I've grown to sense exactly when it becomes obvious the Pats have the Steelers beaten. In the 2001 AFC Championship Game, it was just after halftime, when Antwan Harris returned a blocked field goal for a touchdown to give the Pats a 21-3 lead. That game would be the third time the Steelers lost an AFC title game at home under Cowher in four tries. There would be another one before Cowher finally broke through and won a Super Bowl.
Three years later, the Patriots were no longer upstarts. They had won two Super Bowls in three years, and on Halloween, they came back to Pittsburgh only to have the Steelers harass the hell out of Brady for once, ending the Pats' 21-game winning streak. But come January, New England returned to Heinz Field for another AFC title game. And in the first quarter, when Brady connected with Branch on a 60-yard bomb to make it 10-0—the first of the two GIFs above—I knew it was over. The final was 41-27, and it wasn't even that close.
In 2005, the two teams played their best, most competitive game of these last 16 years, with the Pats winning on a last-second field goal. In '07, the Steelers were speedbump No. 13 in the Pats' undefeated regular season. That one's best remembered for a dumb guarantee made by Anthony Smith, a young Steelers safety. Smith even doubled down on the guarantee when asked about it later in the week:
The problem wasn't what Smith said; it's that he couldn't play. The Patriots knew it, and they went right at him, and often. After Brady threw a short touchdown pass to Moss to give the Pats a 7-3 lead, Brady couldn't resist talking a little shit to Smith—even after Harrison tried to intervene:
In due time, Brady would throw touchdowns to Moss and Jabar Gaffney that covered 63 and 56 yards, respectively. Final score: 34-13.
The Steelers trashed the Pats in Foxboro in '08, but that was the year Brady was hurt. There was the 2010 game, which I recall because it was the night I met my wife. We were at a bar on Manhattan's Lower East Side, set up by mutual friends, and it felt like every time I snuck a glance up at the television, Brady was throwing another touchdown pass. Probably because he was. I remember everyone in our group laughing at the way I kept muttering, "They stink." My wife, a Massachusetts native, married me anyway. She's the best. Pats 39, Steelers 26.
The Steelers beat the Pats in 2011, but Brady hung 55 on their aging defense two years later in Foxboro. He beat them again in last year's season opener, then again in October when Roethlisberger was out with an injury, though the Steelers held him to 222 yards passing by playing a Cover 2. Last week, when it came time to analyze Sunday night's game, I chose to look at how the Pats' defense might match up with the Steelers' offense. I took it as a given that Brady would shred their defense again. I just never figured it would be as easy as it was.
The second play from scrimmage set the tone. The Steelers brought a three-man rush, and Julian Edelman ran a simple drag route. But because there was no pass rush, Brady was able to freeze the entire defense by looking to his right before hitting Edelman across the middle as two defenders gave chase. (Also: Nice tackling, Steelers.)
Later in the first quarter, watch Brady audible out of an I-formation with a slot set into a five-wide spread because he saw the Steelers were about to blitz:
Steelers Depot did an excellent job breaking down how Brady diagnosed what the Steelers were going to do based on what they had done two weeks earlier when the Dolphins showed a similar look. (The Patriots' staff alters their schemes week-to-week, and resists giving opponents too much usable tape. The Steelers—and to be fair, most teams—are all too predictable by comparison.)
Basically, when Edelman went in motion and the Steelers rotated their safeties, Brady knew the blitz was coming. By shifting to a spread, he forced the Steelers to call off the blitz and to play zone. Brady quickly zipped the ball to Hogan up the seam:
In the second quarter, the Pats twice converted third-and-longs on the same drive. The first time, on third-and-10, Edelman ran to a spot and stopped in the zone after getting a linebacker to turn his hips. I've seen Brady and Edelman do this kind of thing before.
A few plays later, on third-and-8, the Pats lined Hogan, Danny Amendola, and Edelman to the left of the formation, where they were only matched up against two defenders—another sign the zone was coming. Edelman ran an out route and Amendola cleared out, taking the cornerback with him. Brady, given plenty of time, looked first toward Edelman, which drew two defenders toward him. That left Hogan all alone on the outside. First down:
Shit, you get the idea. I knew Sunday's game was over when the Steelers tripped on their dicks at the goal line just before halftime, when they went heavy and tried to pound the ball on first and second down after Roethlisberger had been dealing and D'Angelo Williams was running so well out of the spread. Down 17-6, they couldn't afford to settle for a field goal there. Once they did, it was only a matter of time before Brady packed them up for the winter.
Facing Brady has always meant having to pick your poison. Blitz and he'll get rid of it quickly. Play man and the Pats will kill you with a combination of crossing routes, or they'll spread you out and run the ball. The Steelers have tried everything over the years. Sunday night, they played what looked like a smart scheme by frequently dropping seven or eight into coverage. But this relied on generating some kind of pass rush to make Brady sweat a little. It rarely came. As a result, Brady stood in the pocket and played catch with his receivers, simply waiting for them to find to a pocket in the Steelers' zone. It happened over and over. And then, it kept happening. It's as if the Steelers never noticed how the Texans had gotten to Brady a bit last week by blitzing from the inside, rather than the edges. Tomlin and Butler never adjusted—a mere six blitzes, per Pro Football Focus, and six dropbacks that brought pressure. Brady just kept carving them up.
There was no falling back on Spygate, or Deflategate, or a 3 a.m. fire drill, or Le'Veon Bell's injury, or Antonio Brown making branded content during Tomlin's locker room speech. Tom Brady and the Pats simply smoked the Steelers, just like they always do. Damn it.