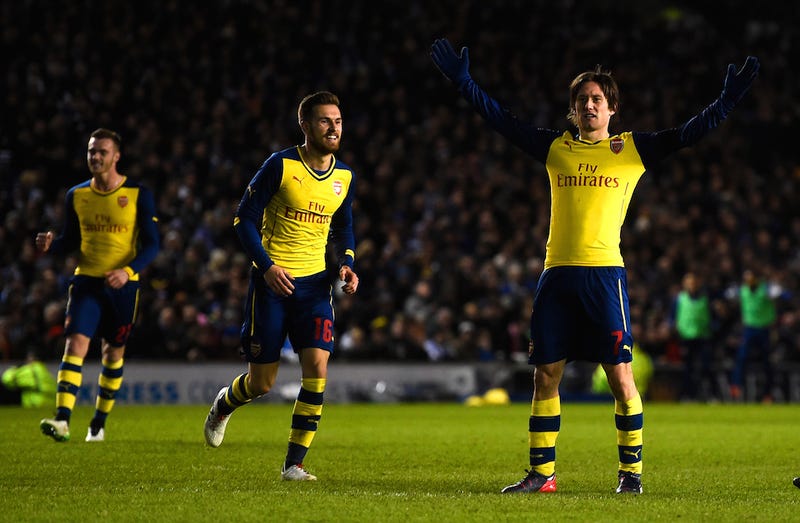 It takes more than the couple dozen legs of Arsenal's preferred starting XI to carry the club towards their annual fourth place finish in the Premier League and deep though ultimately unsuccessful (though not always!) runs in the other major tournaments. Rotation, fatigue, and the handful of crucial injuries that are as inevitable as their final league position combine to make the Gunners' entire squad an integral part of every season. The man who best exemplifies this fact of life is Tomáš Rosický, the club's long-serving, under-acknowledged multi-tool.
Despite having roughly 32 players of more or less the same type for their five midfield positions, each year Arsenal find themselves in an injury crisis when five or six of their best players in those positions are forced to miss time. And each year, there sits Rosický, waiting on the bench, ready to hit the ground running. Rosický isn't the type of player fans expect much from, and if he winds up with more than 20 or so starts across all competitions, you'd know something rather drastic went wrong. But if you've been paying attention to his quietly impressive career, you'd know Arsenal are in safe hands when they do have to rely on him.
This is Rosický's ninth season with the Gunners, and he's been a firm squad player for at least half that time. Regardless of his relatively low place on the depth chart, he always finds himself onto the pitch, and he excels when he does. This is in large part because of his flexibility: Rosický is a natural central attacking midfielder, but he's able to play any of the midfield positions in Arsenal's preferred 4-2-3-1 or 4-3-3 formations. Just this season, he's been used in his natural position behind the striker, a little deeper as a central midfielder, even deeper still as a defensive midfielder, and out on the left wing. No matter where he lines up, he brings assured, incisive passing, intelligent movement, and defensive commitment.
His commanding display during this weekend's FA Cup win over Brighton & Hove Albion was yet another addition into his long record of impressive spot-starts:
Rosický was the best player on the field, instigating pretty much every dangerous Arsenal attack by sliding and chipping countless balls out to the runs of those around him, showing off the versatility that makes him so valuable. He was able to control the match in all phases, at times dropping deep alongside full-time defensive mid Mathieu Flamini to circulate the ball and slow down the pace, or instantly speeding things up by sitting in the number 10 position and flicking through balls to the wide players, or supporting the inside runs of Mesut Özil and Theo Walcott by making compensatory moves to the flanks, maintaining the space required for everything to work.
The two goals he was directly involved in demonstrated his ability to influence the game from various positions: on his assist to Özil for the game's second goal, he collected the ball from a deep position before playing the German into space in the box for him to turn and score; and on his beauty of a strike which gave Arsenal their third, he tackled back the ball high up the pitch seconds after they had lost possession, shoulder-feinted his way past a couple defenders, rolled a look-away pass out to Olivier Giroud, then stroked a volley past the keeper to cap the game's finest bit of play:
For a 34-year-old making only his fifth start of the season, he looked as fresh and in-form as any of the Gunners' younger regular starters.
In modern soccer and on clubs like Arsenal, squad players exist in a strange purgatory. With millions upon millions of dollars in annual revenue, and with rabid fanbases starved for trophies and demanding of the spending they feel will win the silverware, rosters nowadays are changing collections of promising or underwhelming players who either were once or are still expected to become first team difference-makers, and their inability to break the starting XI leaves everyone anxious.
The typical cycle goes something like this: player impresses at a smaller club; he attracts a lucrative offer from one of the buying clubs; he is presented as the club's best new hope for success, the last little push to nudge them past their rivals; he doesn't impress in his limited opportunities early on and thus falls out of favor in the manager's and fans' eyes; as the months and years go by, he's forced to watch from the sideline each match day, hoping the next transfer window brings about a change of scenery and more minutes, yet limited in his options because of the realities of his salary.
Rosický's relationship with Arsenal is different. For almost a decade he's known full well that in an ideal world he'd only grab a handful of minutes every month or so during blowouts, and getting the occasional start in matches that don't really matter that much. But instead of agitating for a move, he's stood by the club, secure in the knowledge that his opportunity will arrive—it always does—and he'll be able to make all the difference. It's a role few of his ability are willing to endure, and one that even fewer perform at his level. Rosický has never been Arsenal's star, but he's often been one of their most important.