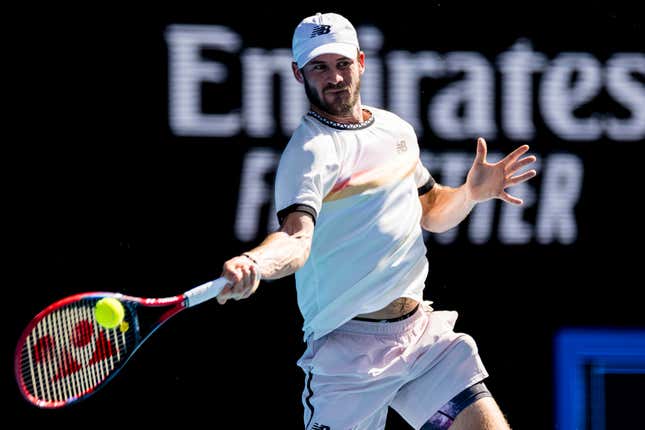 Tommy Paul didn't play collegiate tennis. Instead, he came up through the junior circuit and turned pro in 2015. He's one of the rare Americans who plays best on clay, yet his career breakthrough has come on the hardcourt of the Australian Open. Paul took down fellow American Ben Shelton on Wednesday in four sets to reach his first career Grand Slam semifinal. Separating him from appearing in the tournament final is Novak Djokovic, the world's No. 1 player, a 9-time Australian Open champion, a competitor who's never lost in the Aussie semis, and a still-unvaccinated hack.
Being a Tennis Gladiator like Roger Federer | Bear Grylls' Ultimate Sports Fantasy
It's the classic underdog versus unbridled-champion scenario. Good against evil, not quite David going toe to toe, or racket to racket, with Goliath. Before the calendar flipped to 2023, Paul had never appeared in a Grand Slam singles quarterfinal. He reached the quarterfinals of the 2020 French Open alongside doubles partner Nicholas Monroe and was part of the United States 2022 Davis Cup squad. Now, the biggest match of his life takes place Friday in Melbourne.
David versus Goliath, and Goliath is a tremendous asshole
It flew largely under the radar in sports circles that there was an all-American quarterfinal of a major tournament. Tennis is one of the sports for most enthusiasts that comes to the forefront four times a year, and the Australian Open is one of that quartet on the calendar that's awkwardly placed. It's the only major tennis tournament not to traditionally take place during the summer in the USA. The excitement around last year's US Open, especially with Serena Williams' chase for one final major, was incredible. Call it my New York bias, but having the tournament domestically, as opposed to halfway around the world, makes a substantial difference. And that point gets reinforced when you realize the live start times of most of these matches. Good luck getting up at 3:30 a.m. Eastern time for Sunday's final. Probably easier to pull an all-nighter.
Paul didn't have much buzz in larger sports conversations, if any, before making the trek Down Under (Undah) this year. Shelton wasn't a needle-mover but undoubtedly had more than Paul. And Shelton's five years younger than the man he bowed out of the Australian Open against. The 20-year-old Shelton won an NCAA Title last year at Florida and was traveling outside the United States for a tournament for the first time as a professional. And making it to the quarterfinals of a Grand Slam is nothing to scoff at. Now the Americans' hopes solely rest on Paul for the first time in the tournament with a juggernaut looming across the court.
Let's be honest — this is going to be an uphill battle for Paul. And he knows it. Is it impossible to defeat Djokovic? No. Will it be close? Yes, and that's actually not a bad thing. Djokovic and most tennis diehards believe the only thing stopping the world's top player from winning his 10th Australian Open men's singles title is himself. And Joker jock-itch has looked fantastic thus far in the tournament against more accomplished players than Paul. Strap in folks, this could be an elementary semifinal exit for Paul. Or it'll be his star-making moment, even if he loses valiantly. Either way, Paul's career is about to change, and shame on a heavy majority of us for it taking this long to notice him.