Your p.m. roundup for Sept. 28, the day we learned the Facebook dorks have descended upon New York. Don't know what the headline refers to? Go here. Got any stories or photos for us? Tip your editors.
The best sports movies according to Toheeb Jimoh
Read Me
Walter Payton did the sort of dumb drugs you stopped doing in high school: "Back when Payton drove his own RV to Bears training camp, he used to load the rear of the vehicle with tanks of nitrous oxide, commonly known as laughing gas. At nights and during breaks in the action, players sneaked into Payton's trailer, loaded the nitrous oxide into balloons, then carried them around while taking hits. The goofy laughter could be heard throughout the training facility. Now retired, Payton turned to nitrous oxide more than ever. Large tanks occupied a corner of his garage, and he held a gas-filled balloon throughout portions of the day, taking joyous hits when the impulse struck. 'I don't think Walter was addicted,' says a friend, 'but he sure liked it.'" [Sports Illustrated]
G/O Media may get a commission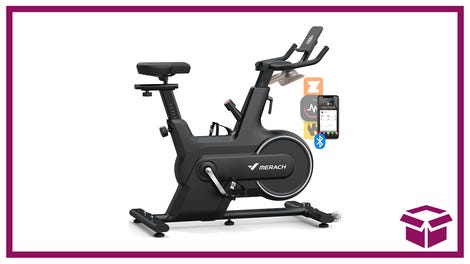 14% off + Coupon
Merach Indoor Cycling Bike
This Date In Deadspin History
Sept. 28, 2007: Our (Brief) Interview With Gilbert Arenas
Things You Might Have Missed Today
Some quick links to a few items we posted earlier:
• The $30 Product That Will Change How You Watch The NFL
• An MLB Umpire Forgot The Count Last Night And Held The Game Up By Making A Phone Call
• There Is An NBA GM Out There Who Doesn't Know How To Use Google
• More Overwrought Fantasy Emails: Joe's Going To Carve YoU Up, Drink Your Blood, Rape Your Sister And Beat Your Mother
• HOLY SHIT TOM BRADY CUT HIS HAIR
• A Very Quick Correction To A Very Dumb Rick Reilly Column
• Detroit Police Will Investigate The Ford Field "Booty Bus" That Its Officers Have Informally Investigated For A Year
• So Here's What Really Happened When A Pair Of Philly Football Writers Got Into A Fight Today
Elsewhere
Emeritus on Logan Morrison: "Before the start of the season, Morrison joined (or whatever the word is) Twitter. He embraced tweeting, loved tweeting, tweeted relentlessly. But the thing about Twitter is, of course, your boss can see it. Can follow you around like a schoolmarm. The Marlins saw Morrison respond to one of his 64,731 followers by calling the person an "underrated slut," and tweet a picture of himself wearing a "SHARKTITS" T-shirt, and admit he might be "turned on" by watching Sonya Thomas eat forty hot dogs on ESPN. And soon, whenever his name popped up, the Marlins went on alert. He's gonna say something crazy! Here goes! It was harmless, mostly—the kind of stuff Tom Seaver might say over a beer with a writer back in the day, or that Catfish Hunter would mutter postgame, slumped in front of his locker. That was before publicists and handlers and nervous front-office types. Josh Beckett has never had a beer with a writer, never will. But Logan Morrison has Twitter." [Esquire]
Your Portuguese Music Box Commercial Interlude:

The NFL will wait another day to implement test of dubious efficacy for substance of uncertain benefits: "A program for human growth hormone testing in the N.F.L., which the league touted just last month as a done deal, appears highly unlikely for this season, bogged down in a technical dispute among the league, the players union and the international testing agency advising both groups." [New York Times]
Rex Grossman is just a diet away from greatness: "So is Grossman capable of becoming elite? He already has met two of the criteria: He's completing 59.6 percent of his passes and averaging 282 yards a game, on pace to exceed 4,000, and he has led a team to a Super Bowl. There is no reason—absolutely none—that Grossman can't kill off Bad Rex once and for all, and make game-winning plays consistently under pressure. He can start the transformation today by going on a diet. He needs to lose weight, as he admits—and this is not a trivial point. If Grossman has an inherent limitation, it's his lack of mobility. He has no business compounding it with a knife and fork if he expects to lead the Redskins to the playoffs." [Washington Post]
Merch: Managing editor Tom Scocca and contributing editor Drew Magary have both written books. You can buy Scocca's Beijing Welcomes You: Unveiling the Capital City of the Future here, and Magary's The Postmortal here. Now do it.
Send stories, photos, and anything else you might have to tips@deadspin.com.