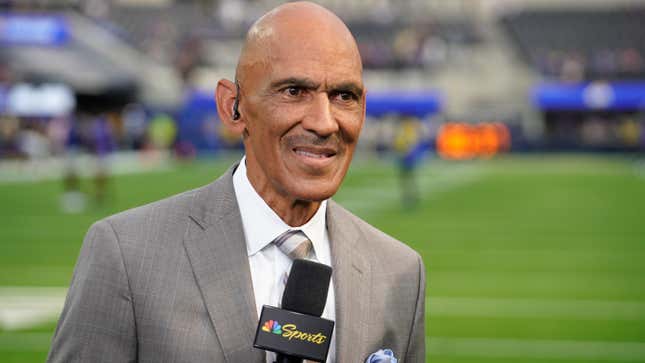 It hasn't been a great week for NBC Sports football analyst Tony Dungy. He made up one-half of perhaps the most low-energy broadcast team we've ever heard on Saturday night (along with Al Michaels, and has been getting flack for it ever since. Dungy has also been getting roasted, and rightly so, by Cyd Zeigler over at OutSports for his ongoing opposition to same-sex marriage. In the past, Dungy once called openly gay SEC defensive player of the year Michael Sam "a distraction," (then tried to walk it back) and has publicly aligned himself with anti-gay individuals and organizations.
Terry Crews' favorite NFL players
Dungy's worldview apparently extends to the trans community as well. On Wednesday, Dungy shared a myth that litter boxes are being placed in schools for children that identify as furries, a brain-dead rumor that was debunked months ago after being spread as right-wing propaganda, designed to mock children who identify as something other than the sex they were assigned at birth. And Dungy fell for it, hook, line, and sinker.

Dungy was responding to this tweet from the Daily Wire, a conservative news outlet.
Almost as damning as the tweet is that Tony Dungy attempted to engage in a dialogue with the Daily Wire. If you've never heard of the Daily Wire, our heartiest congratulations. All you really need to know is that the site was founded, in part, by Ben Shapiro and calls Jordan Peterson "the most important public intellectual of our time." So.

Dungy's history under scrutiny
If this is the first time you've heard Dungy called out for alleged homophobia, Ziegler does a good job of itemizing all the times he should have said (or done) nothing:
The public debate about Dungy's anti-gay leanings started in earnest in 2006.

That year, Dungy was the headliner at a fundraiser for the Indiana Family Institute, whose primary objective was to oppose same-sex marriage. The event's invitation featured a picture of Dungy coaching an NFL game in his Colts attire, with assurances that "an opportunity to financially support the Indiana Family Institute" would be available.

"I appreciate the stance [IFI is] taking, and I embrace that stance," Dungy said during the IFI fundraiser of the group's opposition to same-sex marriage. "IFI is saying what the Lord says. You can take that and make your decision on which way you want to be. I'm on the Lord's side."

In 2013, when NBA player Jason Collins came out publicly as gay, Dungy said he doesn't "agree with Jason Collins' lifestyle."

The following year, after Michael Sam came out publicly as gay and was drafted by the St. Louis Rams, Dungy said he would not have wanted Sam on his team.

"I wouldn't have taken him," Dungy said of the Rams drafting Sam. And wait for it... "I wouldn't want to deal with all of it. It's not going to be totally smooth ... things will happen."
Dungy deleted the tweet, presumably after he saw the backlash it engendered, but the internet never forgets.
It's also worth noting that NBC Sports has yet to comment on Dungy's behavior.