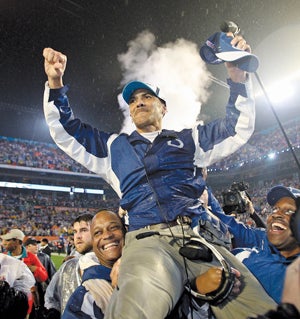 The retirement of Tony Dungy has brought forth some divided opinions from two different sets of minorities about the coach's legacy as a human being.
Yesterday, ESPN's LZ Granderson, a gay black man, stepped up and apologized for ignoring Dungy all of those years over the former Indianapolis coach's strident Christian beliefs . Granderson said that he realizes now that the coach's motivations were a little less divisive than he first suspected:
This is why I am apologizing for not coming to your defense. While gay marriage is an issue about equal treatment under the law, what the black community is dealing with is a crisis that threatens its very existence. As an NFL coach, you have not only talked about the crisis, you have followed your heart to do something about it — working with some of those misguided men through prison ministry as well as through mentoring programs in Indianapolis. In retirement, you plan to do even more work and will likely have a greater impact on black men's lives working full-time to help save our community than you did in your 31 years in the NFL. I'm not suggesting your work cannot and does not stretch beyond the black community, but I believe the research illustrates a greater need there.
Fair enough. But Granderson's not getting off that easy — especially from Cyd Zeigler Jr., president of Outports, who says that Dungy doesn't deserve any sort of apology, especially from a gay man:
Dungy isn't just against gay marriage, he's against homosexuality. He's against one of the main aspects of my identity – of who I am – that defines every gay man, whether we want to admit it or not. And he is vocal about it. Many sports casters, coaches and players have lost their jobs because they are racist or sexist; The same standard should hold for homophobes. Instead, Granderson gives Dungy a pass because he'll be reaching out to black men to help them set their lives straight. He'll be using his ministry to do that: Dungy will be preaching the "good word" to help lead more black men to salvation. But it's that same ministry that is the foundation for Dungy's anti-gay beliefs and anti-gay political positions. To me, Granderson is saying: "I'm OK with you spreading your anti-gay interpretation of Christianity, because black men need your help more than gay men."
Well, can they both be right? And then there's old-timey Minneapolis Star sports columnist Sid Hartman, who just thinks Tony Dungy is the downright saintly. But Sid's readership seems to thinks the old fella is just nice to everybody:
I agree that Dungy was a GREAT man...But, in the past year [Sid] has written similar articles about Carl Pohlad, Bobby Knight, Brad Childress, Joe Mauer, etc. So when you write about a man truly as great as Dungy it loses credibilty because Sid has written similar things about people who are not as special as Coach Dungy.
Yeah. Get your act together, Sid.

Dungy does not deserve a pass for his anti-gay actions [Outsports]
Dungy's Greatest Work Still Ahead Of Him [ESPN]