Once you've tried to wrap your head around the nebulous machinations that resulted in Toronto FC's new star-studded roster, you're left wondering how exactly the team convinced certain players to join the league. In the case of Sebastian Giovinco, the pitch was simple: "How would you like to be the highest-paid Italian player in the world?"
The best sports movies according to Toheeb Jimoh
That's the story Italian sports paper La Gazzetta dello Sport tells in its pages today, and the numbers appear to check out. According to the Toronto Sun, Giovinco is set to earn a base salary of $7 million the length of his five-year deal. On top of that, he'll make what a source told the Sun was "less than a million" in marketing rights, putting him somewhere between $7 and $8 million annually. La Gazzetta's estimate includes even more money in the form of bonuses, which could put his earnings closer to an insane $10 million a year.
Not only will this give him the richest contract in all of MLS, it would even be the most lucrative wage in Italy's Serie A, too. The following is a table from an ealier edition of La Gazzetta by way of RossoneriBlog showing every salary in Serie A, which includes practically every high-earning Italian player. (All figures in Euros.)
G/O Media may get a commission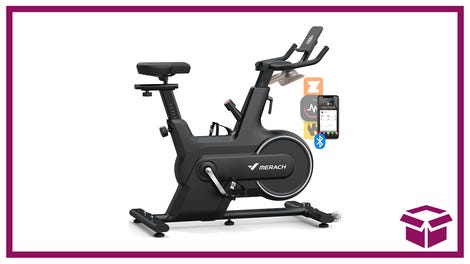 14% off + Coupon
Merach Indoor Cycling Bike
Daniele De Rossi of Serie A is currently the world's highest-paid Italian, making €6.5 million, which converts to a shade over $7.5 million. The next-highest-paid Italian, Mario Balotelli, gets paid $6.95 million by Liverpool, according to La Gazzetta.
There's even more fun to be had with these comparisons. Looking at the paychecks of his soon-to-be-former Juventus teammates, he's set to nearly double the annual salaries of the highest-paid guys there. And if you glance a litte farther down the Juve chart, you'll find Giovinco's current earnings, which are pegged at $2.55 million.
(It's worth noting that European soccer wages are often reported differently than they are here. Often, the numbers over there are what the player makes after taxes, while here it's almost always before taxes, which can make a pretty big difference, especially with the enormous tax rates for Europe's highest earners in many countries. It's not clear whether the Serie A numbers or Giovinco's are net or gross.)
So by rarely playing for two seasons while getting older, Giovinco will go from one of the biggest clubs in the history of the sport to a perennial loser in a nascent league most of the soccer fans in his country have never watched before, and triple his salary. Oh, a penny for the MLS Players Union's thoughts.