The story of the Premier League season thus far has been the sudden and unexpected ascent of a number of Britain's historically smaller teams, the likes of Leicester and West Ham and Crystal Palace and Swansea. These are teams that fans of the league's big boys would've penciled in as easy Ws just a year or two ago, and they've so far appeared to rise into a new stratosphere of competence and competitiveness previously reserved for a select few bigger-than-small-yet-smaller-than-huge clubs in that sweet spot below the Champions League aspirants but above the true midtable muck. It was somewhat fitting, then, when a club that typically resides among those high-single-digit table spots managed to steal some glory from their nouveau petite bourgeoisie rivals.
Tottenham—England's archetypical denizen of the upper-upper-middle class— made noise this weekend. They pasted Manchester City, who came into the game not just as league leaders but practically league winners-elect, 4-1 at home. It was a result that allowed them to basically took the season's script, rend it to pieces, and toss it into the air like confetti for the post-game celebration.
Outside of what the result means in the larger scheme of the league race, this was some game. In it we saw City, so dominant in their previous six EPL matches, throttled. It's true that two of Tottenham's four goals wouldn't have counted had the linesman made a couple obvious offside calls (and, to be fair, City also benefitted from the linesman's bad day on the match's opening goal) but the victory was well deserved nonetheless.
G/O Media may get a commission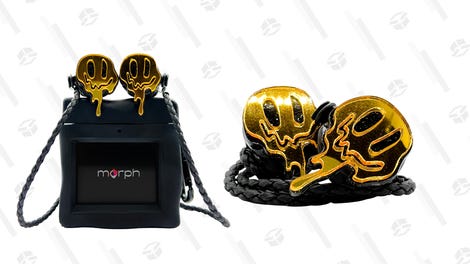 morph audio
Morph Earphones
Spurs could finally field what is apparently their preferred XI, with the defense lead by the Belgian Bros Jan Vertonghen and Toby Alderweireld, revelatory duo Eric Dier and Dele Alli deep in midfield, and Son Heung-min, Christian Eriksen, and the resurgent Érik Lamela supporting Harry Kane. This is the most talented and fluent Spurs team since the Bale era, and they showed why on Saturday. Tottenham's main weakness in the Mauricio Pochettino era has been their defensive weakness, though this wasn't solely, or even mainly, the fault of the defenders themselves. The club has boasted a quality back four complemented by an attack capable of scoring on anyone; the big problem has been in the center.
For much of last season, Tottenham partnered Nabil Bentaleb and Ryan Mason in the two deep midfield spots in Pochettino's 4-2-3-1, playing behind Eriksen in the hole. While this maximized the team's attacking abilities, allowing them to play as Pochettino likes—able to strike quickly on rapid counters and then, should nothing emerge on the counter, play the ball around to maintain control of the game with possession—it was a disaster in his defensive philosophy of intense pressing high up the pitch. The slight Eriksen isn't physical enough to get into what are generally burly EPL defensive midfielders, and both Bentaleb and to a greater extent Mason had trouble with the positioning and coordinating aspects of their central pivot roles. This resulted in a team that could keep the ball and do something with it, but was liable to allow free romps into the heart of the box once they lost it.
Dier's presence as the deepest midfielder has done the most to rectify these midfield woes. A natural center back, the 21-year-old, who came up in Sporting Lisbon's academy, is extremely versatile. He spent lots of time last year at right back, and this year has been the solution in midfield. He has a natural understanding of how to track opponents entering his area of the pitch, is big and strong enough to get them off the ball (or at least impede their progress when he does catch up to them), and is enough of a smart, wide-ranging passer to fulfill his duties when Spurs have the ball as well. Bottling up the Citizens' attack requires bottling up Yaya Touré, and Dier deserves credit for allowing Tottenham to do just that.
Alongside him was Dele Alli, who looks to be following in Harry Kane's footsteps as Tottenham's breakout young star of the season. Just eight appearances into his Spurs career, he has already made himself one of the club's most important players. With the dribbling, creative, and scoring abilities of an attacking midfielder combined with the athletic, positioning, and perception skills of a holding player, he has literally everything you would want in a central mid. He does stuff like this and he's only 19!
Alli is understandably pretty raw, coming from MK Dons in England's third tier all the way up to one of the better teams in the most competitive league in the world, and he does have a tendency to lose the ball by trying to do too much, but still. He could very well be a great player sooner than later.

Tottenham have spent the last couple years in a strange sort of unthreatening yet promising holding pattern, a fairly obvious consequence of the Gareth Bale sale. They spent tons of money hoping to strike gold again with a new Bale, whiffed on many of those signings, and puttered around in respectable though not especially dangerous 5th and 6th positions.
Tottenham aren't a team that should expect regular Champions League qualification, though, so their ultimate league position hasn't been the point of their recent seasons. If Spurs are to overachieve and oust the richer clubs ahead of them for a top-four spot, it has to come from a slow, methodical plan of smart player acquisition and development.
In that sense, Tottenham's recent past bodes well. While you'd only call Eriksen and Nacer Chadli unqualified successes from the millions and millions of pounds spent from the Bale windfall, they've managed to unearth a few more diamonds that not only augur well for a brighter future but can also culminate in the kinds of shocking results of this weekend.
Last season, homegrown striker Harry Kane came from almost out of nowhere to become one of the best young attacking prospects in the world. And while not quite as loudly as Kane, central midfielder Nabil Bentaleb also made a name for himself as a kid from the academy talented enough to feature for the team. Throw in potential studs like Dier and Alli and outsiders like Eriksen and Son and quality rotation options like Mason and Andros Townsend, and this is the way a team without the resources of a Chelsea or Manchester City assembles a team that on its day can plaster one of the best teams in the world, with a squad more built than it is bought.
If Crystal Palace and Leicester and the others want to stay in the positions they now find themselves in, Spurs have shown the only realistic way forward. It's not easy, fast, or at all foolproof, but when it all comes together like it did Saturday, it can be devastatingly effective ... that is, until Real Madrid come in and buys the best guys up.
Photos via Getty