Browns running back Trent Richardson says to blame him for the new "crown rule," which bans ballcarriers from leading with their helmets, and he sounds proud of it.
"People keep telling me it's the T-Rich rule," he said. "I guess I made history today."
At the NFL meetings, before the owners voted 31-1 in favor of penalizing runners for lowering their heads into defenders, they were shown a video full of examples of what would now be eliminated. It featured, among other plays, Richardson dropping his shoulders and launching Kurt Coleman's helmet in the air like a popcorn kernel:
"That hit made me a hero with Browns fans, but that was just me playing football," Richardson said. "That hit made history right there and it was big."
Richardson's happy to take credit, but the rule change isn't as much about him as about the mindset that finds glory in that style of play. The NFL isn't scared of Trent Richardson hurting someone. It's scared of Trent Richardson, and what he'll do to the league if he becomes Earl Campbell.
If Richardson is a poster boy for today's safety-conscious league, Cambell is a perfect proxy for the half-century of the NFL characterized by an abject violence fetish. The era was born with NFL Films slow-mo collision porn, and entered its terminal decline with the death of "Jacked Up." (ESPN still succumbs to the bloodlust from time to time. And when we get a "clean" hit with a similar effect, we all go nuts. It's perfectly natural to love big hits, and nothing to be ashamed of.)
G/O Media may get a commission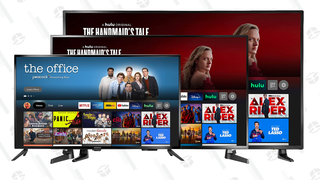 Up to 44% off
Prime Early Access - Insignia Fire TVs
Listen to the orgasmic and unlikely broadcast booth of Vin Scully, George Allen, and Jim Brown, as Earl Campbell does what he was famous for:
Now read Lee Jenkins's fantastic SI profile of Campbell, from this past summer.
As Campbell charged into middle age, arthritis froze his knees, back and feet. He developed gout and diabetes. Three bone spurs had to be removed from his vertebrae. He underwent more operations than he can remember. Around 2000, still only 45, he played his last round of golf, and soon after he required a wheelchair. He often slept on the couch in the living room of his two-story house because he couldn't make it upstairs to bed. Panic attacks, which had hounded him since retirement, grew more frequent. He wore sunglasses to shield himself from crowds. "I was not comfortable being Earl Campbell," he says.

He started taking Tylenol with codeine, then graduated to OxyContin. He popped as many as 10 pills a day, downing each with a Budweiser. "I didn't do no Scotch or wine or mixed drinks," Campbell says. "I'm from Texas. I'm real Texas. My deal was them four horses." He skipped business meetings and dozed off at public appearances. "He didn't want to do anything," Janecka says. "He was high all the time."
Cambell is sober now, and fighting a still-unidentified neurological disorder. Not every player from that era invited head-on collisions, and not every player who did visibly suffers from the after-effects of that trauma. But more than enough research exists for the NFL to be very worried about players like Trent Richardson, and what'll happen when they hit Earl Campbell's age.
The crown rule, like the other player safety crackdowns, is 100 percent a move to manage liability. The NFL will conceivably win its pending lawsuits from retired players by claiming it didn't truly understand the long-term effects of head trauma. (This is incredibly suspect, as Ta-Nehisi Coates exhaustively chronicles, but the general public didn't pay attention until recent years, and that's largely what matters.)
The "we didn't know" defense won't fly in a quarter-century, when current rosters hit early-onset Alzheimer's territory. The league's defense then will be: we made every reasonable effort to protect your brains. That's an impossible statement to make, because of the inherent nature of football. But the NFL will argue that with the crown rule and similar changes, it is protecting players from themselves. It'll leave unsaid that it's also protecting itself from those players.
Earl Campbell hates the crown rule, even more than Trent Richardson does. But then, Campbell is not suing the NFL. Richardson might.