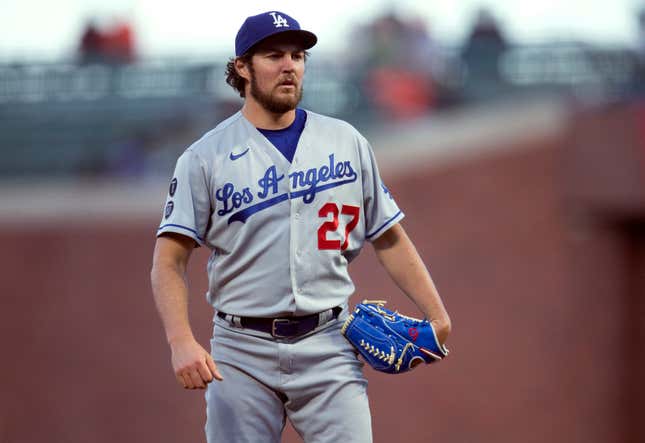 Three months after former Major League Baseball and current Yokohama DeNA BayStars pitcher Trevor Bauer had his lawsuit against Deadspin dismissed, new accusations of sexual assault have surfaced. This time, it's for an alleged incident that took place in late 2020 in Arizona. Per USA Today, the woman has sued Bauer claiming he raped her, got her pregnant, and held a steak knife to her throat. Bauer not only has denied the allegations, but he's also countersued the woman. Bauer's countersuit accuses the woman of extortion, fraud, and fabricating her pregnancy.

Dodgers World Series guarantee was trash! | Trash Talkin' Tuesday
This is the fourth publicly known case with similar allegations to be made against Bauer, who was suspended by Major League Baseball for 194 games under its sexual assault and domestic abuse policy last year, the longest suspension of its kind in MLB history. After being reinstated, he was released by the Los Angeles Dodgers and didn't get picked up by any league team earlier this year. Bauer had a 4.75 earned-run average with the BayStars before being demoted to the team's minor-league system. 

USA Today reports that the case brought against Bauer in December by the Arizona woman seeks $3.7 million and an "apology to any women the defendant has sexually humiliated and abused against their consent." Bauer's lawyers responded by stating the woman's lawsuit "is another attempt to harass and extort Mr. Bauer." Bauer's lawyers also stated the pair had one, consensual rendezvous in December 2020 during which they say his condom broke. After their night together, the woman claimed she was pregnant and wanted $1.6 million from Bauer to end the pregnancy, per the countersuit.

According to USA Today, Bauer's countersuit says he declined to pay the amount and told the woman the decision to have the child was her own. Per his countersuit, USA Today says, Bauer stated he would support the woman's decision, including payment for child support and medical expenses. Bauer claims he paid $8,761 in costs associated with the "alleged pregnancy and its subsequent termination," per the countersuit. "Based on (the woman's) demand letter and failure to provide any medical records to substantiate her pregnancy or termination thereof, Mr. Bauer now believes that (the woman) fabricated her pregnancy to try to extort him for money," USA Today reports his countersuit states. The woman filed an amended complaint in which she states she decided not to terminate the pregnancy but had a miscarriage in April 2021.

"Trevor Bauer categorically denies this woman's unhinged allegations," his agents Jon Fetterolf and Rachel Luba said in a statement. "...He is also actively suing her for fraud.
"USA Today's reporting is as reckless as the fraudulent claims of this woman," they added.

According to USA Today, the woman's complaint alleges multiple incidents including one where she and Bauer had a non-consensual encounter, where he raped her, and another where he put a knife to her throat. The woman's court filing states she was bedridden for several days after the violent encounter with pain on her head, neck, and scalp.

Bauer lost the suit against Deadspin claiming defamation over this story, where the headline proposes he should never pitch in Major League Baseball again. And in the two years since its publication, Bauer hasn't thrown one pitch from an MLB mound. The first accusation came out against Bauer in 2021, with the Arizona woman's claims sounding similar to that of a woman from San Diego two years ago. Two other accusers came forward to the Washington Post after the woman from San Diego's allegations became public. Bauer continues to deny any wrongdoing and no criminal charges have been brought against him in any of the aforementioned cases.