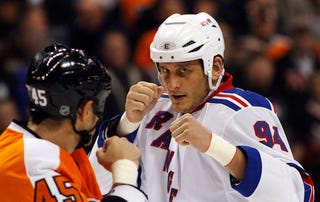 Two men were arrested this morning in connection with the death of hockey enforcer Derek Boogaard, who died in 2011 from an overdose of alcohol and prescription painkillers.
Law enforcement sources say that Jordan Hart, the son of New York Islanders legend Gerry Hart, was arrested on Long Island Tuesday morning by the DEA's New York drug enforcement task force.

An indictment claims that Hart was supplying Boogaard, a former Rangers' enforcer, with the prescription painkillers that killed him.

Also arrested was Oscar Johnson, a physician's assistant in Utah. He is accused of writing bogus Percocet prescriptions for Jordan Hart on nearly a monthly basis for two years, totaling nearly 3,000 pills.
As extensively chronicled by the New York Times' John Branch (who's got a book on Boogaard coming out next month), Boogaard was heavily, hopelessly, and increasingly addicted to painkillers in the years leading to his death.
[MyFoxNY]