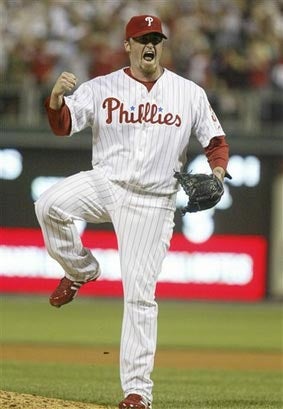 We were at Shea Stadium last night, wearing our Rick Ankiel jersey, of course, and we noted that we were 100 percent unmolested. We chalk this up partly to the fact that Mets fans are about 60 times nicer to visiting fans than Yankees fans, but mostly, Shea Stadium was a morgue last night. The Cardinals are lousy right now, but the Mets are decaying before our eyes.
It wasn't a booing night in Flushing. Maybe because of Pedro. Maybe because this was a makeup date and you had to go a little out of your way to find it. Maybe some of the more sympathetic souls at Shea took "makeup date" literally and felt conciliatory toward their team on this, the last evening they would spend alone in first place.

Then there's the very real possibility that there wasn't a ton of derision because there wasn't a ton of concern or its sibling emotion, a ton of belief. You can't believe what you've seen since September 12: the Mets 4-10, the Phillies 11-3. After 140 quick minutes, we filed out like middle-schoolers from a mandatory assembly. It was cool to get out of class for a couple of periods, but that was pretty lame, wasn't it? Yes, it was lame. Yes, the Mets are lame. Yes, the Mets are choking on their own vomit in historic fashion. At first it was disturbing to watch. Then it was sad. Now it's barely anything.
Baseball Prospectus points out that if the Mets do lose this lead, it will be the second worst collapse in baseball history, behind the 1995 Angels.
But collapses do not happen in a vacuum, and if you saw highlights from Philadelphia last night, that place has bugs in its britches. And lots — and we mean LOTS — of towels.
Mets and Phillies are tied. This might be a fun weekend.
C'Mon — What Else We Gonna Do? [Faith And Fear In Flushing]
Your NL East Leading Phillies [The 700 Level]