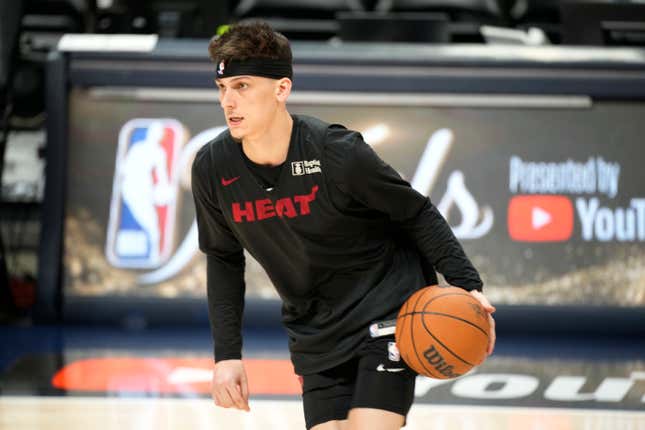 The Miami Heat have had a hellacious run to the NBA Finals, and they've done it all without one of their best offensive weapons, Tyler Herro. He suffered a broken hand in the second quarter of game 1 during the first round against the Milwaukee Bucks. Herro had already scored 12 points in the game, which at the time felt like a death blow to the Heat.
The Miami Heat are one of the great underdog stories in NBA history | Keep it a Buck(et)
Of course, we know the Heat were able to rally, winning that series, and the two that followed. Now Miami is in the NBA Finals, down 3-1 to Denver, and Herro could make his return in game five, but it might be too little too late for the Heat.
Indeed, there have been games here, and there during this postseason run where Miami missed Herro's 20 points per game, but overall, they've been able to score almost at will over the past six weeks. It hasn't been quite the same against the Nuggets through four games. The Nuggets have held the Heat under 100 points in three of the first four games. Denver has won all three of those games.
One of the most overused cliches in sports is about the best ability being availability. That might be true in most instances, but for the Miami Heat, they'll need Herro to do much more than just show up. He may not necessarily need to score 20 points in his first game back. He'll need to shoot efficiently to help the Heat's cause. Coming back from a broken shooting hand and having not played in nearly two months, there's only so much you can expect from Herro in this situation.
Whatever Herro can contribute will be great, although it may not be enough. Heading into the series there were reports that Herro might return in game 1. Then it was game 3. Now it's game 5 of the series with Miami's back against the wall again. But this is a position this Heat squad is familiar with as they almost didn't make the playoffs having to compete in two play-in games to capture the No. 8 seed. So, battling against the odds like they've done all season is nothing new to Miami.
Herro is officially listed as questionable for game 5, so it will likely be a decision that lingers until close to game time. Ultimately, Jimmy Butler and Bam Adebayo will need to carry the Heat regardless of Herro's status. If they get anything out of Max Strus, that would also be an improvement. He's scored 17 points in four games. Fourteen of them came in the Heat's game 2 victory in Denver. If the Heat are going to extend this series, they have to get more from Strus, and the rest of their supporting cast.