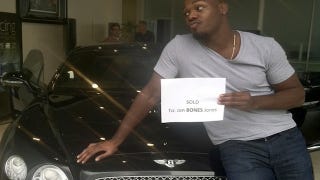 According to the dogged sleuths at TMZ, Jon Jones was involved in a single car accident around 5 this morning when he wrapped his Bentley around a pole in Binghamton, N.Y. He was reportedly arrested on the scene for driving under the influence and taken into custody. He was bailed out a few hours later by his mother. There is no indication whether, or to what extent if any, Jones was injured.
Dana White, whom TMZ reached by text, responded "Wow, i guess its not my week is it?" Referencing, no doubt, the recent death threats he has received from former fighter Dan Quinn.
We'll update accordingly.
Update (3:48 p.m.): A source has confirmed that Bones is physically OK.
h/t Steve P.