The UNC academic scandal—that's much less scandal and much more conversation with the last person left in the world to have seen the ending of The Sixth Sense—continues. To recap, athletes at UNC were enrolled in bogus classes and received assistance from faculty and administrators to help maintain their eligibility. The latest, as reported by The News & Observer, is that the UNC faculty leader, Jan Boxill, suggested altering a report on the academic fraud investigation to mitigate the potential NCAA response.
The News & Observer obtained emails via a public records request and discovered the changes.
The correspondence shows that hours before the report's release on July 26, 2012, Faculty Council Chairman Jan Boxill sent the three faculty authors a last-minute email. It suggested they rewrite a sentence that painted a picture of a department manager creating bogus classes to protect athletes' eligibility to play sports.

The authors grudgingly agreed to it, and some key information disappeared from the final version.

Boxill wrote that the request came from other faculty on the council's executive committee. "The worry is that this could further raise NCAA issues and that is not the intention," she said in the email.
The final version (quoted below) removed "...the involvement of Deborah Crowder seems to have been that of an athletics supporter who was extremely close to personnel in Athletics, and who..." and replaced it with "a department staff member[.]"
"Although we may never know for certain, it was our impression from multiple interviews that a department staff member managed to use the system to help players by directing them to enroll in courses in the African and Afro-American Studies Department that turned out to be aberrant or irregularly taught."
G/O Media may get a commission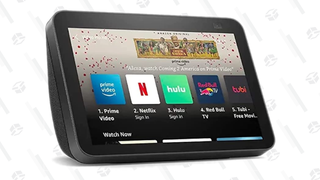 That the authors removed Crowder's name and role is nothing earth shattering. Boxill told The News & Observer that the committee's role was to ensure "facts were reported correctly without implications and innuendos we were not in a position to know[,]" which seems entirely reasonable. Removal of a name from a report doesn't mean UNC is hiding the fraud; it still happened.
But UNC is in the middle of an academic scandal. As has become cliché now with any scandal, transparency is favored, not obfuscation. In investigating whether its own faculty perpetrated what appears to be an enormous academic fraud on behalf of the athletes on campus, maybe UNC shouldn't be in the position to decide what is or is not relevant.
Photo credit: Getty
UNC faculty leader pushed rewrite of key report to keep NCAA away [N&O]