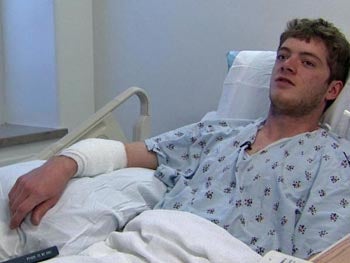 As we learned in Lord of the Flies, dancing near bonfires often leads to the collapse of the social structure, and on occasion a trip to the North Carolina Jaycee Burn Center.
Poor North Carolina freshman Andrew Madlon. He flew too close to the sun on wings of stupid.
Andrew Madlon, a freshman at the University of North Carolina, found himself crowd surfing on Franklin Street after the Tar Heels' semifinal victory Saturday over Villanova. "I was sort of up there for five or 10 seconds, and the crowd just ran out and I got dropped into the bonfire," he recalled.

Madlon's right forearm landed on the hot coals. "I actually didn't think it was that bad at first," he said. He had second-degree burns. Dirt from the coals lodged in his skin, leading to an infection that required surgery and a type of biological Band-Aid made from pig skin.
Yeah, this wasn't even the result of Monday's championship game victory over Michigan State; Madlon was out of action after the semifinals. And now he has a pig arm. It's sad, really.
More amusing photos here ... UNC students are mesmerized by fire!