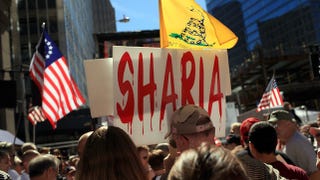 No, not the Iranians. The Patch site for Perry Hall, Maryland, reports that the principal of Perry Hall High School shut down the boys' soccer team after the players celebrated a playoff victory by doing the Bernie on the field. Principal George Roberts declared that because of the dance exhibition, the players would be
"banned indefinitely from all football activities for committing immoral acts."
Oh, wait, that was the Iranians again. What the Perry Hall principal said was that parents of players on the losing team had found the dance "sexually suggestive" and that he had decided, in consultation with the athletic director, to cancel the rest of the season.
"If I thought it was too harsh, I would have made another decision."

"Children should celebrate by cheering each other, giving high fives, hugs and pats on the back. But in my view, a choreographed, celebratory dance is not the way to celebrate victory," Roberts said.

"That celebration method is not acceptable. It's not what we expect from our student athletes at Perry Hall High School," he said.