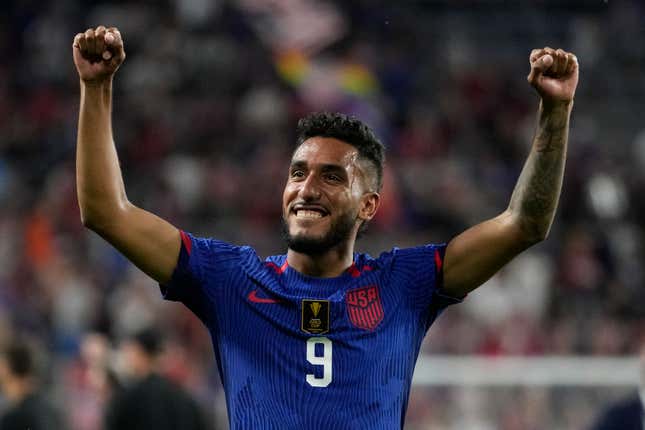 It took until the 88th minute for the United States men's national team's C-squad to score a goal on home soil in a major-tournament quarterfinal and 15 seconds after play resumed for the offense to take place that gave Canada a golden opportunity to take it away. An uninspired first half, saved by Brandon Vazquez, who scored with a phenomenal header in front of the partial Cincinnati crowd, where Vazquez plays his club soccer, all gone thanks to a careless handball from Miles Robinson, who should've been called for two penalties in the game and was saved by a reckless Canadian foul moments before. We haven't even dug into the craziness of extra time and penalty kicks. One thing was clear as the USMNT advanced in the CONCACAF Gold Cup instead of suffering an embarrassing defeat — very few Gold Cup call-ins will make a difference for the US when games truly matter.
Christian Pulisic calls out lackluster attendance at USMNT friendly
Matt Turner saved America's ass with two saves in the penalty shootout. He's the clear No. 1 goalkeeper for the team and wouldn't even be in a position to save the red, white, and blue if he didn't specifically state he wanted time away from Arsenal's offseason program to play in the tournament. No other clear starter for the national team was called into the group. And that includes Robinson, who is probably the second most-likely choice. While he's working his way up to prime fitness after he suffered a ruptured Achilles tendon last year, Sunday was his worst game in a USMNT uniform. He didn't only commit two fouls worthy of a Canadian penalty kick, he just looked uninterested and sluggish in a game where he should've been dominant because Canada was content sitting back for nearly the entire match.

Then there's the curious case of Jesús Ferreira, who can bag hat tricks against crappy teams and then disappear when an opponent of any leverageable strength shows up. Ferreira played all 120 minutes and mustered one shot on goal in the 11th minute of first-half stoppage time. As the USMNT looks ahead to Wednesday's semifinal against Panama, personnel switches need to be made. Interim and soon-to-be-ex-USMNT coach B.J. Callaghan's most interesting choice will be up top. Vazquez scored the Stars and Stripes' only two non-own goals against teams that don't suck ass. Ferreira has six goals against teams that do. Ferreira has started every game in the tournament so far and while neither should challenge the true No. 1 striker spot from either Folarin Balogun or Ricardo Pepi, the Gold Cup has turned primarily into a chance to grow your talent pool instead of continental dominance with the creation of the Nations League.

With how the CONCACAF's heavy hitters chose the rosters for both the Nations League and Gold Cup, it's clear which tournament is universally preferred. And it's not the one where Ferreira and Vazquez are playing. With no berth into the Confederations Cup at stake, it's a safety net to expand rosters for the more important tournaments. The USA elevated Turner, Robinson, and Shaq Moore from the 2021 edition. And while there's no clear gain to the USA's A-team yet from this Gold Cup, using what's left of this tournament to vet the possibilities for next year's Copa America and the 2026 World Cup is crucial. Even if you're pissed at the performance against Canada, just remember outside of Turner, this isn't what second-term Gregg Berhalter will choose for any match that's vital to US Soccer. A non-Christian Pulisic, non-Westion McKennie, non-Giovanni Reyna (lol), non-Tim Weah roster, and a few others because you get the jist, isn't a team worth getting upset over. Squandering the chances to improve the USMNT's chances when those games come around is.