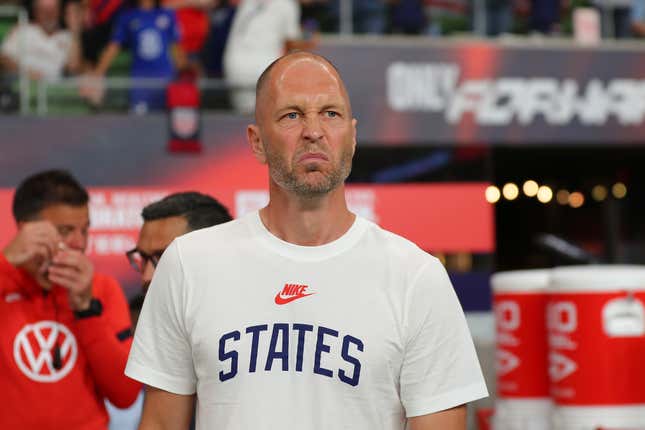 There is something so very U.S. Soccer about taking nine months in their search for a new USMNT manager, going through two interim managers because the first one didn't want to wait around and took a full-time job in the Middle East, and then ending up back where they started by re-hiring the guy they had in the first place. In fact, it's just about the most U.S. Soccer thing ever. And Gregg Berhalter seemingly thinks that's exactly what will happen.
Can Liverpool Win The Quadruple? | What You Need To Know | FA Cup
If you missed the USMNT Twitter bubbling this week, a quick review. On Tuesday, it was reported that Berhalter was a finalist for the manager's job for Club America in Liga MX in Mexico. A day later, the first reports were that he had gotten the job. And then a few hours after that, the wind had shifted to Berhalter turning down the job because he wants to remain in contention for the USMNT job. Life comes at you quick, especially in the soccer world.
It needs stressing that this isn't any job that Berhalter turned down, if reports are to be believed. Managing Club America is just about the biggest managerial job in Mexico, below the national team at least. They are the traditional power in Mexico, with 13 titles to their name — more than anyone else. On this continent, there probably isn't a bigger club management job. To turn that down would take some serious stones if it were offered, or you'd have to be pretty sure you were getting a better job in the immediate future.
Which is where Berhalter finds himself. He's still rumored to be a finalist for U.S. Soccer, even with a couple of ex-France stars making serious noise about how much they would like the job, with both having experience coaching in MLS. Beyond Patrick Viera, Thierry Henry, and Berhalter, there haven't been too many rumors about who else U.S. Soccer has talked to, aside from Jesse Marsch who probably just kept bothering them until they did. And in Henry's and Viera's case, we haven't heard much more than just cursory contact between them and U.S. Soccer.
All of which makes you believe that U.S. Soccer was just waiting around until the Berhalter/Reyna mishegas calmed down so they could just let Berhalter have the job anyway.
Meet the new manager, same as the old one?
This won't please a great swath of U.S. Soccer fandom, and that's understandable. Berhalter clearly got clowned by Louis Van Gaal (a genius in his own mind) in the Round of 16 at the World Cup. It does feel like he wants to manage a national team like a club team, which really can't work. He certainly mishandled some of the Gio Reyna situation, though his biggest mistake was thinking he was in private when he wasn't at the conference that started all the horseshit. He hasn't really proven he can get the team to play in a style that goes far in a tournament, based on how gassed they looked against The Netherlands after scraping by giants Iran and Wales.
To be clear, not immediately jolting Reyna into the starting 11 for the World Cup was a completely defendable choice. He wasn't playing that much at Dortmund, he'd been hurt, and Tim Weah and Christian Pulisic were equally if not better options (and both went on to prove it during the tournament). Certainly not rewarding Reyna for completely dogging it in training leading up to the tournament was the only choice. And again, Berhalter could have hung Reyna out to dry during the tournament if he wanted to, but instead tried to provide him cover in the press by referring to continued injury problems instead of his behavioral ones. It was Reyna himself who blew that up.
There certainly is a chance that Berhalter can grow into the job along with the young roster he has put together. And he does have a major hand in putting that team together, and the dual nationals who have chosen to represent the U.S. (Sergino Dest, Folarin Balogun, Yunus Musah, Malik Tillman to name a few). That speaks to the culture that Berhalter helped build. Not a nothing.
But…but…should U.S. Soccer go back to Berhalter, fans can't help but feel a touch deflated, and wonder just how serious of an organization U.S. Soccer really is. Make no mistake, this is the biggest three-year stretch in the men's team's history, hosting two tournaments that they should make serious noise in. That they have to make serious noise in. With big names at least hinting that they'd like a chance at the job (including, oh y'know, the greatest manager in the world), simply opting for a product of the seriously inbred old ways of the national program in Berhalter definitely looks like a lack of ambition, and more to the point a lack of financial balls.
Same kind of goes for Jesse Marsch, the only other name heavily linked to the job as well. These are safe choices, not necessarily bad, but they don't feel like they open up all the possibilities. On the other hand, returning to Berhalter makes for an easier out should the 2024 Copa America become a complete balls-up and allow U.S. Soccer to go big-game hunting for the World Cup two years later. Which they won't, but fun to dream.
This is U.S. Soccer, where underwhelming is what they do best.
---
Follow Sam on Twitter @Felsgate.