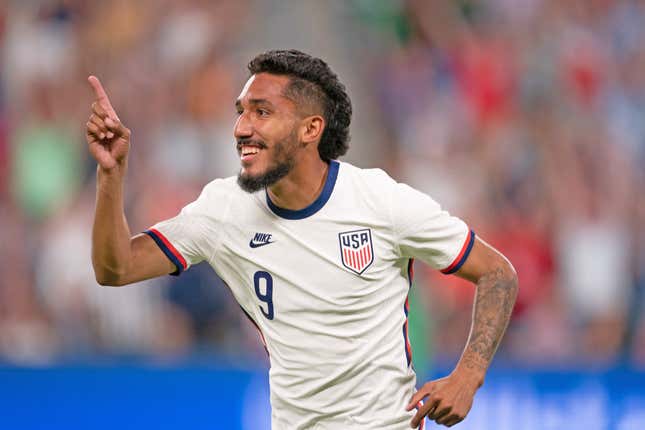 The surest bet for the United States men's national team to score a goal is Jesús Ferreira against a shitty team. The FC Dallas striker has padded stats that look much more impressive than they are. In 20 appearances for the Yanks, Ferreira has 11 goals. He became the 29th American to score 10 or more goals for the national team Wednesday night with his hat trick against Saint Kitts and Nevis in the Gold Cup. Without the context, he's a slam dunk to be in the discussion to be the permanent No. 9. After a tiny bit of research, he's third in line, at best.
Can the USMNT avoid the knockout? | World Cup reaction
Let's not quickly forget the previous showcase for the USMNT when diagnosing the Gold Cup, or even Saturday's Gold Cup-opening tie against Jamaica, where Ferreira started and didn't score. Ferreira at best would be behind the two strikers who featured for the Stars and Stripes during the Nations League, Folarin Balogun and Ricardo Pepi. Each scored a goal against the top teams in North America, while Ferreira's trio came against a team 125 spots below the United States in the FIFA rankings. Four other Ferreira markers came last June against Grenada, who is No. 174 in FIFA's rankings. There were two more in a friendly against a low-powered Trinidad and Tobago side, one in a meaningless friendly against Mexico's B-team, and a goal amid a rout against Panama. Ferreira has never scored a goal for the U.S. against a non-CONCACAF opponent. Taking away his two outbursts, his form is four goals in 18 appearances. That's not the quality you want from a striker.

It's not fair to judge Ferreira just on his first-half performance against the Netherlands, which sucked. It was one-half and he was invisible as the main attacker against a world power. He's only 22 and has only played professionally in America, in his seventh season in Dallas, with a loan spell in the USL in 2018. Ferreira was the only starter for the USMNT against Saint Kitts and Nevis to play in the last World Cup and while his chances of getting back to that stage are impossible to predict due to the length of time between now and the summer of 2026, how Gregg Berhalter will fare in his post-extortion stint with the Yanks, putting the proper context into what's always been a fickle spot for the USMNT is critical. And Ferreira still hasn't proven he's worth taking time from strikers like Balogun, Pepi, and probably more.
It's frustrating for Ferreira, because the glimpses of potential at the international level are there against teams that feel like MLS competition. Ferreira is no slouch stateside, with 18 goals in 33 league appearances last season, followed by 10 in 18 games this year. Not bad at all. But playing in a stadium that at capacity could hold more than half the population of your opponent isn't the proving ground needed to solidify his USMNT status. It's a long tournament and the Gold Cup as a whole doesn't have the meaning it used to with the Nations League's formation and the dissolution of the FIFA Confederations Cup. The entire American roster called into the tournament, minus Miles Robinson, DeAndre Yedlin, and Matt Turner, has a question mark next to its full-time status with the national team. The only player to tangibly improve his status in two games is Djordje Mihailovic.

Ferreira's display against the No. 136-ranked team in FIFA should've been dominant, as their center backs play in the fifth tier of English football, where Wrexham just got promoted from, and India, not known to have a domestic league of any international substance. He'll likely get a third straight start up top against Trinidad and Tobago on Sunday night, where the USMNT could technically be eliminated from the tournament or win its group. Either way, Ferreira's campaign to retain a spot as an American call-up is still pending. Don't look too much into his hat trick against the Sugar Boys.