For most of my lifetime, Venezuela has been chum for the sharks of South America. La Vinotinto have never qualified for a World Cup, have never even made the final of a Copa America, and generally do not put up much of a fight, particularly against the top teams on the continent, and even more so when away from home. So, it's rather remarkable that Venezuela played hosts Brazil in the second round of Copa America group stage matches and escaped with a 0-0 draw.
The Venezuelan defense was a wall all night long, with 25-year-old center back Yordan Osorio putting in the defensive performance of the tournament so far (give or take Colombia's Wílmar Barrios's clampdown on Lionel Messi). On the other end, Premier League tank Salomón Rondón won more 50-50s than should be physically possible, allowing for breaths of air for a besieged vinotinto. Brazil helped, mostly because they were predictable and stagnant in their attack, and extremely wasteful in their shot-taking: the tournament favorites had a whopping 19 shots, but only managed to force a save out of Venezuelan keeper Wuilker Faríñez once.
And yet, even with that stunning effort to keep the Brazilians out of the goal, in front of the Seleção's own booing home crowd, the main thing that saved Venezuela's ass, just as it did against Peru in another frustratingly stilted 0-0 draw in their first match, was the damn Video Assistant Referee, which annulled two Brazilian goals in the second half.
The first, longer review happened in the 60th minute: Manchester City's Gabriel Jesus shot the ball, only to see it cleared by Venezuelan defender Mikel Villanueva into the path of Roberto Firmino, who cut it back to Jesus for what looked to be the opener. The only problem? Firmino was pretty clearly offside when Jesus's original shot went off:
G/O Media may get a commission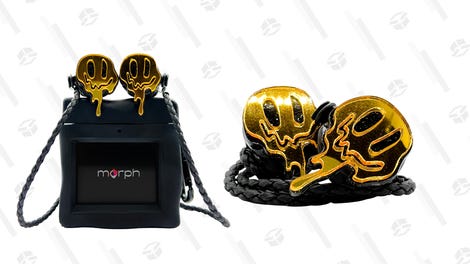 morph audio
Morph Earphones
That's a pretty definitive call, with the only real interpretation being if Villanueva purposefully cleared the ball to Firmino, which would make him not offside. However, as the Telemundo commentary team tried and mostly succeeded to explain, the defender has the right to deflect the ball from going into the goal without counting that as an offside-negating action, and so the score remained knotted at zero. The second call was far more confusing.
In the 87th minute, Philippe Coutinho appeared to slot one home from a nice Everton Soares run and pass, breaking Venezuelan hearts after a long night of defending. The only problem for the yellow-and-blue is that Coutinho actually, somehow, hit the ball off Firmino (poor Bobby was in the wrong place at the right time twice on the night), who was ruled by the VAR team to have been in an offside position:
The call seems right; since Faríñez was just barely ahead of the ball, there needed to be two Venezuelan defenders between Firmino and the goal when the ball hits him. It appears that only Osorio is at the point of contact, though it's so close that it's the type of thing that would never be called without VAR. The technically correct call doesn't always lead to a just result, as VAR has proven over and over again.
Against Peru, Venezuela had two similarly close calls on goals originally allowed, plus a third which was disallowed without needing to go to replay; sometimes human referees shed the fear of being wrong and actually make a damn call. The Peruvians were certainly the more dangerous side, especially after Venezuelan left back Luis Mago got a stupid second yellow in the 75th minute, but will feel aggrieved that they somehow managed to put the ball past Faríñez three times only to come out of it with only one point.
If you're a Venezuelan fan, you're probably bowing at the altar of the VAR gods, but even though all four (four) disallowed goals so far were technically correct, drawing Brazil 0-0 in Brazil is the exact type of thing that VAR has cheapened. In the aftermath of Coutinho's seemingly game-winning goal, no one could get all that excited because they had to wait for the replay, with the Venezuelan players immediately calling for an offside review instead of being crestfallen that their efforts would amount to nothing. It's good that they weren't robbed with some home-cooking for the hosts, but, God, the inability to feel actual human emotions is so disappointing.
If you're a fan of underdogs doing whatever they can to upset (or at least draw) heavy favorites, Tuesday's game was likely supremely enjoyable. But unlike Venezuela's heroic 0-0 draw against Brazil in the 2011 Copa America, this one leaves a bad taste in at least my mouth, as a devoted vinotinto fan. Stealing a point from Brazil only because of something that is so often a plague on the modern game (cut to Nigeria sadly nodding) is not satisfying, even if it is technically correct. Here's hoping Venezuela doesn't need it against lowly Bolivia in the final group stage match, or I might lose my mind.