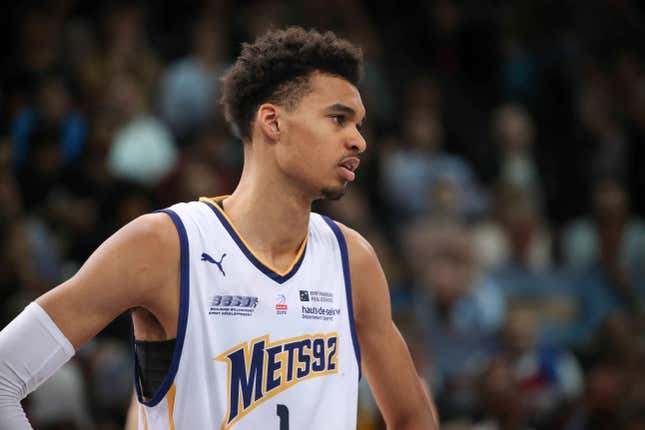 Victor Wembanyama is rail-thin, but with hefty expectations on his shoulders across two continents simultaneously. It's a testament to Wemby's precocious readiness that he hasn't wilted under the pressure already. During the Denver Nuggets and Miami Heat's NBA Finals pillow fight, Wembanyama is hooping in the peripherals, just out of view.
Is pulling Victor Wembanyama from NBA Summer League the right move? | Agree to Disagree
Now that Novak Djokovic's sprint to his 23rd Grand Slam is over, the City of Lights turns to the LNB Pro A Finals aka The Wembanyama Finale. In a few days, Wembanyama will hop on a private jet to embark on his career in the NBA. The NBA draft occurs in 10 days and the summer league begins soon after. Given that he's still starring in the French Cup's best-of-five Finals until June 20 at the latest, Wembanyama's involvement will likely be scaled back after appearing in every Mets 92 game this season. It won't be enough to silence the critics of his durability though. The average French LNB team plays half as many games as an NBA lottery team.
A year from now, Wembanyama will be reminiscing about these glory days while enduring rough nights on a back-to-back in Charlotte like Humphrey Bogart in Casablanca. He'll always have Paris. The San Antonio Spurs are counting on Wembanyama being their ticket back into the championship hunt. Tim Duncan spoiled Spurs fans by arriving pre-cooked. That won't be the case for Wembanyama who has been seasoned, but physically underprepared for the rigors that lie ahead. For the past five seasons, the Spurs have been traversing the NBA schedule as prey. Wembanyama is their ticket back to the apex predator's club. But in his developmental years, they'll have to deal with plenty of funky nights from Wembanyama
A virtuoso performance or two against No. 1 overall seed AS Monaco would only further cement him in the eyes of skeptical American fans. However, in Game 1 of French Cup Finals, Wembanyama's aura had a Pepé Le Pew tinge to it as he dropped a stink bomb by scoring eight points on 3-of-8 shooting.
The series as a whole is a unique insight into his future. In terms of talent, the French is situated somewhere behind the continental EuroLeague, Spain's Liga Asociación de Clubs de Baloncesto, and the Turkish Basketball League. As Rudy Gobert went through the draft evaluation cycle a decade ago after a similarly brief career in France's premier league, he explained how French centers differ from their NBA counterparts.
"The strength and the height," Gobert said when asked at the NBA Combine about playing in the French league versus the NBA. "NBA five men are way taller. In France, [centers are about] 6'9, maybe 7-foot. In the NBA, they're a lot stronger, but also have a lot more height."
Every time Wembanyama falters, the small sample size skeptic's cottage industry starts activating their factory machines, but he deserves the benefit of the doubt. He would also get used to it though. In the NBA, the snap reactions will come twice as fast, twice as often, and be just as brutal.
For all his finesse gifts, Wembanyama won't have to wait til he's facing a No. 1 seed in the NBA to get physically punished. I imagine there will be a few nights where he resembles Chet Holmgren's chest getting caved in by Kenneth Lofton in the 2022 Salt Lake City Summer League with the viciousness of a racket smacking a ping-pong ball around. In Game 1, AS Monaco used that lightweight element of Wembyanyama's to their advantage.
Although he's nicknamed The Alien, his origins are still human. At the age of 19, Kobe Bryant was shooting air balls against the Utah Jazz in the first round of the NBA Draft. Shaq was being held scoreless by the SEC's cellar-dwelling Florida Gators and Yao Ming was still three years away from making the leap to the NBA.
Great achievements are made of small successes. Prior to this season, Wembanyama won a French Cup on the same ASVEL club the Mets 92 eliminated to advance into the Finals, in a fairly prominent role. Wembanyama being the impetus that got the Mets 92 this far isn't on par with Luka Doncic propelling Real Madrid to the 2018 EuroLeague title, wrapping up EuroLeague MVP, and Final Four MVP as a 19-year-old. That remains the gold standard for international phenoms. But eliminating the three-time defending champions in the semifinals and leading the playoffs in scoring by logging 17.7 points a night is a promising sign that Wembanyama isn't just a FreeDawkins highlight reel sugar rush or a G League exhibitionist.
Wembanyama in the Finals is akin to the first time Leonardo DiCaprio was up for a Supporting Actor Oscar. Right now, he's the lead in a small-budget Finals, but eventually, he'll be the marquee NBA Finals draw. This will be the last chance Wembanyama has to win a French Cup, and probably the last time he'll be a contender for any titles in the near future, but there are brighter stages and bigger leading roles in his future.
Follow DJ Dunson on Twitter: @cerebralsportex