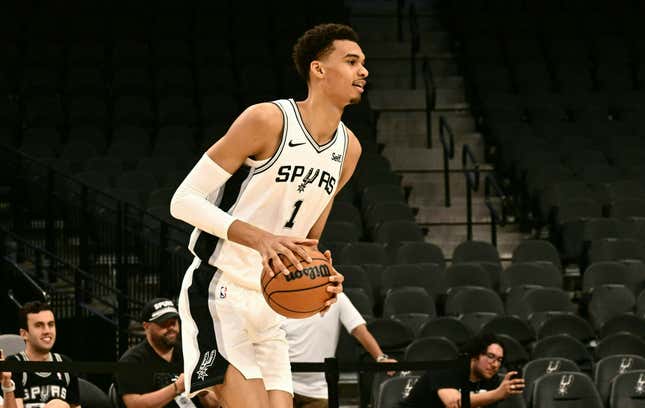 If I have to hear one more TV, personality, or Twitter bird squawking about the NBA's top draft pick, Victor Wembanyama, missing a couple of perfunctory jumpers between photo shoots, I am going to throw myself in front of Shaq next time he barrels toward Inside the NBA's video board.
Is pulling Victor Wembanyama from NBA Summer League the right move? | Agree to Disagree
So he missed a few jumpers, big deal
Over the weekend, a brief clip of Big Vic bricking a few jumpers unveiled the other side of the fame cycle. It's barely been a week and a portion of the Internet is embarking on their mission to tear down the most hyped No. 1 overall pick in 20 years. After living up to his reputation as the NBA's next phenomenon for a year in France, all it took was one mortal moment in a San Antonio Spurs jersey for the troll leaches to latch onto that as proof of his NBA bust status. Much of the insipid drooling stemmed from critiques that bordered on reductive basketball analysis on the same level as JORDAN POOLE WASN'T DA SAME AFTER DA PUNCH!
CAN'T SHOOT, WON'T PLAY SUMMER LEAGUE.
ALL HYPE, HE'S GETTING EXPOSED!

HE NEEDS SOME MEAT ON HIS BONES!

WAIT TIL KENNETH LOFTON DEVOURS HIM LIKE PAC-MAN! WAKA-WAKA-WAKA

The insufferable drivel about Wembanyama has bubbled beneath the surface for a while now, but prepare for the sewage to rise to the top. In addition to missing a few half-assed jumpers, Wembanyama is catching heat for skipping Summer League and the FIBA World Cup. It's such a bass-ackwards complaint, anyone whining about it should have their brain scanned. I'm not saying there's something wrong with them, but it wouldn't hurt to get checked. Wembanyama just competed in the French Finals against elite international comp, in high-intensity minutes and is set to play twice as many games as a rookie.
At this point in his offensive development, Wembanyama is a midrange machine whose fadeaway jumper is the trademark of his shot profile. Who knows if he'll ever become a great shooter behind the arc? Irrespective of that, most 19-year-olds join the NBA with jumpers that need refinement. Then, they get assigned shooting coaches and trainers who can discover any flaw in a player's mechanics.
Every rook or prospect has a swing skill. It's the aspect of their game that dictates whether they'll become a bust, a starter, or a superstar. The significance of that swing skill varies from player to player. Wembanyama is such a sure thing short of injury, that his swing skill will be the difference between him being a top-10 all-timer and a top-5 GOAT candidate. He could average 10 a night and still be one of the greatest defensive prospects ever because of his unique length allowing him to switch on pick-and-rolls from underneath the rim.
Yet, a 3-second clip of him missing has no bearing on how much work he has to do as a shooter. The form is crisp, and the arc on his shot is a perfect parabola. He hadn't even warmed up or played in three days after a whirlwind week that began in the French Cup Finals and ended with an exhaustive media blitz across the U.S. The Spurs drafted Wembanyama for the next 15 years, not to win it all before Pop retires or even in the next five years. Wembanayama won't win Mr. Universe anytime soon, the 3-point contest, or possibly even Rookie of the Year, but rest assured, he is that dude.
---
Follow DJ Dunson on Twitter: @cerebralsportex