Reader Alex L. sends along video he shot of Baylor coach Art Briles confronting Big 12 commissioner Bob Bowlsby following the Bears' win over Kansas State on Friday. Briles said he was angry at the conference's insistence on co-champions—something he (accurately) predicted would strand Baylor on the outside of the College Football Playoff.
It's not great video, but it is the best that exists besides a brief shot of the McLane Stadium video board.
After the game—but before the selection committee placed Baylor fifth for a four-team playoff—Briles spoke out against Bowlsby's presenting of trophies to both Baylor and TCU, despite Baylor's head-to-head win earlier in the season, and the conference's motto of "One True Champion."
"That was my deal," Briles said. "If you are going to slogan it around and say there's one true champion, then all of a sudden you are going to go out the back door instead of the front. Don't say one thing and do another.

"I'm not obligated to [Bowlsby,] I'm obligated to Baylor University and our football team. We happen to be a part of the Big 12 and happen to be champions two years in a row. So they have to be obligated to us because we're helping the Big 12′s image in the nation."
Once the matchups were revealed, selection committee chairman Jeff Long acknowledged Baylor's lack of a championship as a huge factor. Long called the Buckeyes' play in their championship game "decisive," and noted that "Ohio State's performance in a 13th game gave them a quality win over a highly ranked team." He could have left the Big 12's situation unsaid and the message would still have gotten through. He didn't leave it unsaid.
G/O Media may get a commission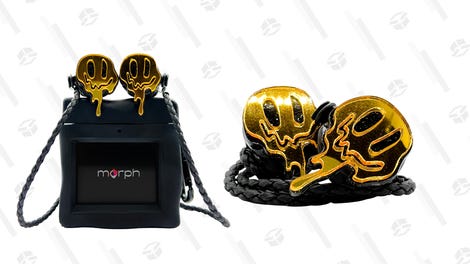 morph audio
Morph Earphones
There were four playoff spots for five power conferences, only four of which have championship games. It didn't take a math major to see that if things were tight, Ohio State was going to have the edge on Baylor and TCU. But Bob Bowlsby was apparently surprised!
"It's clear that we were penalized for not having a postseason championship game. It would have been nice to have been told that ahead of time."

"We have to weigh whether this is substantial enough to add institutions. ... It's certainly a major consideration."

The words of Football Playoff Committee chairman Jeff Long "will cause us to go back to the drawing board a little bit and think about if we need a different model."
The band-aid solution is some sort of tiebreaker, most likely head-to-head. But presenting Baylor as conference champions wouldn't have changed their body of work. No, the Big 12 needs a championship game, but that's not so easy. NCAA rules require a conference to have 12 teams to hold a title game, and the Big 12 has 10.
The conference could add two teams—which could take time—or it could petition the NCAA for permission to host a championship game anyway. Two years ago, the Big 12 made noise about applying for that waiver, but never followed through for reasons that remain unclear. Funny though: for a guy who claims to have been caught off guard by the selection committee's thinking, Bowlsby seemed to recognize the importance of a conference title game back then.
Regardless, this isn't going to make things any more chill: