Former Houston Astros prospect Danry Vasquez has been released by his current Atlantic League club after video of a domestic violence incident became public this week. The video shows the player hitting his girlfriend multiple times after a practice with the Corpus Christi Hooks, the Astros' Double-A affiliate, in August 2016. Vasquez was arrested on domestic violence charges at the time and released by the Astros, but the video of the beating was unseen by the public until this week.
Here is the graphic, violent video, obtained via an open records request by KRIS in Corpus Christi:
Vasquez and his girlfriend initially enter the stairwell at the Hooks' ballpark with no indication that anything is wrong, but suddenly, Vasquez winds up and hits her twice, and she slides down the stairs. Vasquez then grabs her by the hair, stands her up, and hits her again. As she moves towards the next flight of stairs, Vasquez says something to her and leaves.
The video then cuts ahead, with Vasquez returned. He and his girlfriend walk down the next flight of stairs as Vasquez continues talking to her, and as they reach the bottom, he hits her in the back of the head, as she stumbles to the ground.
About a week before this incident, during a Hooks game, Vasquez wasted no time in charging the mound after getting hit on the leg with a pitch, wrestling his opponent to the ground and sparking a brawl.
G/O Media may get a commission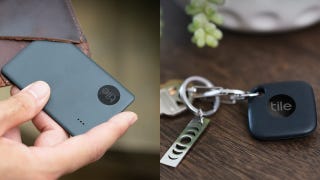 Up to 35% off
Tile Item Trackers
According to KRIS, Nueces County District Attorney Mark Gonzalez said that the domestic violence case against Vasquez had been dismissed, and that Vasquez complied with conditions set by his plea deal. His current team, the Lancaster Barnstormers, said in a statement that they released Vasquez "upon being made aware of the nature of the incident." Even before the video was available, however, Vasquez's domestic violence arrest was significantly publicized.