It goes without saying (and yet bears repeating) that NFL Films does an incredible job. Their weekly Sound FX packages, where selected players are mic'ed up for the game (like Tebow!), are slick and entertaining, but above all insightful.
The NFL has posted Sound FX for the Super Bowl online (in four segments), and any play that needed pundit analysis is laid bare in the audio. We learn that New York's first quarter fumble, which was negated by a penalty, was a rushed snap because the Giants recognized that New England had 12 men on the field. We learn that early on, the Patriots secondary coach told the backs to focus on "80 and 88"—Victor Cruz and Hakeem Nicks. Bill Belichick echoed this strategy just before the Giants' game-winning drive, saying "make them go to Manningham." It was a drive in which Mario Manningham caught three balls for 56 yards.
But for my money, the best moments in this, or any mic'ed up segment, belong to the officials. From a distance they're mysterious, faceless, interchangeable. But they're humans, with senses of humor and fallibility and they're under incredible pressure to get this right. They sound for all the world like players when, at the beginning of the fourth quarter, referee John Parry huddles up his team and leads them in a call-and-response of "finish it."
There are lighthearted moments, like when a frustrated Bill Belichick calls the officials over for a conference after Brady took a safety.
G/O Media may get a commission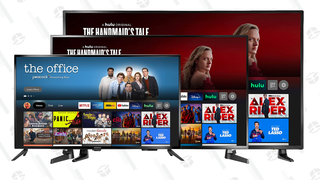 Up to 44% off
Prime Early Access - Insignia Fire TVs
"That intentional ground call..." Belichick starts. An awkward pause, then Parry shuts him down with "So what's the problem with it?"
In the fourth, after Wes Welker's dropped pass that would have put the Patriots deep in Giants territory and run at least another two minutes off the clock, Parry turned to umpire Carl Paganelli and told him, "well, that was the game."
But my favorite moment came in the second quarter, when a Giants drive was stalled by a third down holding call on Kevin Boothe. The replay shows that Vince Wilfork spun away from Boothe, to the ground, and probably wasn't held. Chris Snee and Tom Coughlin explain their grievances to Parry, but it was Paganelli who threw the flag. And when the two officials confer, it's clear that there was some doubt. So they call over Wilfork to ask him if they just did him a favor.
"Did that guy hold you and spin you to the ground, or did you flop?"
"No, that was a bad call."
"It was a bad call on you?"
"Yes.
"It was a bad call on me?"
"Yes."
"Was it really?"
"Yes."
"Why didn't you tell me that before I threw it?"
Wilfork is all smiles; Paganelli's amusement is tempered by the knowledge that he just blew a call in the Super Bowl. But it happens, and by then there was nothing to be done for it, which is why Wilfork was so forthcoming. And the officials resisted the natural urge to call a makeup call, so it had a happy ending for them. But there's one looming question, and it stems from the fact that the NFL has veto power over any footage broadcast: if the Giants had lost the game, would this clip have ever seen the light of day?