As you all know, things can get a little messy in the comments section below. Cruel insults, ad hominem attacks, spineless cheap shots, etc. are pretty commonplace here and plenty of other online establishments. For most of you, this is done anonymously, behind the safety of an avatar, so you can, for the most part, type invective without consequence. Hooray for America.
But what if one of those folks you mercilessly ridicule actually popped up in the comments section and started responding? Meet, Bianca Wilfork — or, better, MrsWilfork75 — who apparently spent this Thanksgiving weekend fending off your personal attacks with furious vim and vigor. Mrs. Wilfork was featured in a Nov. 9th post written by Marcel Mutoni, about her efforts to get her husband's late hit fine against Jay Cutler dismissed.
Needless to say, she's still very supportive of her husband. Let's take a look at some of her responses:
@Yostal:

actually he did not admit that the losman hit was cheap. Mort got his information wrong. Trust me I was there.
@Le Kangourou de Kataroo:
Besides my jewelry and too much hair products thanks for a decent comment. I stand by my husband and support him to the fullest and stay commited to him and my family.
G/O Media may get a commission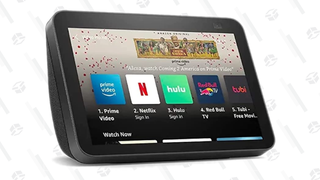 and, finally
@Elvis Stojko:
Thats great to know because I wouldn't want you or Mangolds dick.
Sayeth Ex-Combud Iracane about Mrs. Wilfork's performance:

It usually doesn't behoove a pro athlete or a pro athlete's spouse to respond to comments about them on a blog. It very rarely ends well, but she obviously doesn't care and sounds like a hilarious gal.
Yeah. I think she deserves a + something.

Without this Woman's Help, Vince Wilfork Probably Wouldn't Be Playing Tonight [Deadspin]