How incredible was it that the Chicago Cubs and Cleveland Indians, baseball's two most hard-luck franchises, would meet in the same World Series? Throughout the postseason, as the fates of the two teams converged, a certain prognostication from two years ago kept reappearing on Twitter:

What was a funny curiosity became a sensation the deeper the World Series went. As Game 7 arrived, and as the Indians rallied to tie the game in eighth, sending it to extra innings, and as torrential rain threatened to extend the decisive game indefinitely, @RaysFanGio and his prophecy became the objects of a healthy amount of coverage, a crazy little near-miracle—minus the Four Horsemen part—against the background of the big miracle of a Chicago Cubs championship.
The news-explainer site Vox, however, saw something sinister in the fun. Writer Aja Romano responded to @RaysFanGio with a post under the headline "That viral 2014 Cubs World Series tweet seems too good to be true. That's because it is." 
The seemingly astonishing prediction, Romano explainered, was nothing more than a scam. The author of the tweet, you see, had simply made a whole bunch of different predictions, quietly deleted the wrong ones, and then crowed about it when one came true.
G/O Media may get a commission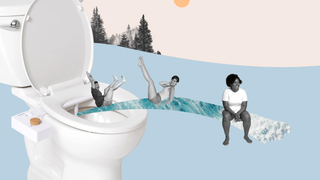 17% off
Tushy 3.0 Warm Water Spa Bidet Attachment
That is a bold but plausible claim. Plenty of clowns do versions of this trick; I can remember writing a short blog about this scheme involving a fake "FIFA Corruption" account. It's no fun to be taken in by a scammer, as New York Times columnist Farhad Manjoo affirmed upon reading the Vox piece:
It is truly embarrassing to be fooled into believing something improbable happened, thanks to an unscrupulous scammer and a misunderstanding of statistics. Unfortunately, Manjoo was the one who got scammed, and Romano was the unscrupulous one.
On inspection, Vox's claim that @RaysFanGio's work was "an example of a classic confidence scam" contains no evidence that any such scamming took place. Here's how Romano says the tweet worked:
Step 1: Flood your space with predictions. Eventually one of them will be right.

Way back in 2014, the owner of the @RaysFanGio Twitter account most likely made a huge number of sports predictions on his little-watched Twitter account — much like hapless user @noah_Hiles95 is currently doing:
"Most likely" should have been a huge red flag for Romano's editors. How many predictions does Romano show @RaysFanGio making in 2014? One: the prediction everyone is talking about. The pivot to some other Twitter user entirely, who does seem to be working a confidence scam, is another red flag. What do the actions of @noah_Hiles95 tell us about what @RaysFanGio did? Nothing. Moving on:
Ideally, if you make your predictions on a platform that allows for private posting, you could make them all private to avoid detection (as Noah Hiles couldn't).

In Gio's case, he simply swamped his Twitter account with a staggering number of tweets — more than 214,000 since his account was made in 2009, or 2,400 tweets per month, most of them about sports. That's more than enough to bury any prediction tweets he might have made and didn't want found.
The paragraph that begins with "ideally" is a hypothetical. The second paragraph is something worse—a cascade of conspiratorial accusations against a person whose suspicious behavior is, at bottom, that he tweets a lot about sports. By Romano's reading, @RaysFanGio has been putting up thousands and thousands of tweets not for the same reason that ordinary people put up thousands and thousands of tweets, but to intentionally "bury" a batch of secret scam tweets, tweets that Romano assumes he "might have made" but has no proof ever existed.
Next comes another hypothetical:
In June, Twitter conveniently gave us all the ability to retweet ourselves. That meant when the time came to announce his successful prediction, all Gio had to do was delete all of his old incorrect Twitter predictions and retweet the old successful one.

We can easily see that no one interacted with Gio's tweet before October 21 of this year, around which point he apparently began retweeting and promoting it so much it garnered attention:

[...]

Granted, Gio didn't wait until the end of the series to unleash his prediction, but it was close enough, and of course it bore the 2014 stamp of authenticity. His correct prediction landed him viral Twitter fame and several interviews with sports blogs and media outlets.
In other words, as Vox sees it, back in 2014, @RaysFanGio seeded Twitter with tweets about future sports events so that he could promote the winning one with a Twitter feature that would not be introduced for another two years. Some people might find that to be a more remarkable accomplishment than predicting who would meet in the World Series.
Vox did not ask @RaysFanGio—who is a real person, a Rays fan named Lenn "Gio" Fraraccio—if he had done any of these things. The article called the tweet a "prediction scam" and assumed that he chose to "bury" the evidence, didn't provide any convincing proof that Fraraccio had actually done anything of the sort, and made its claims without having tested them by (say) asking him if he'd been up to anything nefarious.
Most of the remainder of the post is padded with background information about confidence artists and the history of people joking about the Cubs winning the World Series. The latter is where Vox inadvertently crosses over from butchering traditional journalism to butchering its own thought-experiment-based neo-journalism. Vox knows that thousands if not millions of people have been making jokes about the Cubs someday winning a championship, but it fails to apply elementary reasoning to that knowledge.
In a universe containing a large enough supply of Cubs World Series predictions, we should expect to see some of those predictions turn out to be correct, by random chance alone. That is the only explanation needed to account for how Fraraccio landed on the right result. By concocting a multi-year, multi-part conspiracy theory to explain the tweet, Romano hypes an ordinary event into a bogus sensation.
About half an hour after Vox published its post, its sister site The Verge published a positive interview with Fraraccio in which he explained how and why he had tweeted that. He said that he was a big fan of then-Rays manager Joe Maddon, whom the Cubs officially introduced as their new manager on Nov. 3, 2014. An excerpt from The Verge's post:
The date of his prediction is important — and it has to do with both Fraraccio's love of the Tampa Bay Rays, and its former manager Joe Maddon. On November 4th, 2014, news hit that Maddon would act as manager to the Cubs. To Fraraccio, news that Maddon would be working alongside "legend" Theo Epstein, convinced him that the team would "be very good very quickly." The second part of the equation — the Indians — was a guess based on his opinion that the team had a good pitching staff with a lot of young talent.

As for the apocalypse bit? Well, that was just funny.

Of course, online predictions are a fickle thing. Blogger Andy Baio wrote a stellar piece on how they can be fabricated in 2014, in the wake of a World Cup game prediction that turned out to be a fake. Baio explains that, by setting up multiple accounts, you can essentially make as many predictions as you like. When one of your soothsaying accounts is right, you either set the correct one to public, or delete the wrong results.

"I love how many people are calling me out on Twitter and saying it's fake," Fraraccio says. "Two things: one is, I forgot about the tweet. Somebody said it to me. Secondly, it's time stamped. You contact Twitter if you don't believe it. But everybody wants to say, and people are saying that I'm famous — I'm not famous. I'm like, gonna be famous for like 15 more minutes and then no one will ever care about me again."
I DMed Fraraccio on Twitter and asked if Vox, not The Verge, had contacted him for its story; he said it had not. As he had told The Verge, he said that his tweet was real and wasn't a scam. I don't have to believe him, but I'm not the one trying to prove that he was a fraud. Vox was, and it didn't. In this case, the burden of proof is on the site, and it came up with nothing.
I emailed Romano and Vox founder Ezra Klein with questions about the article; neither had responded as of publication.
Update (11:53 p.m. ET): Vox has added a correction to the top of the article and revised the original text. The correction is below:
Correction: The article below incorrectly suggested that we know the tweet under discussion is a hoax. The kind of prediction made in Gio's tweet is frequently the subject of the scams discussed in this piece, but we did not take the necessary steps to confirm that Gio intentionally perpetrated a hoax. This story was not up to our standards, and we deeply regret the error. The article's text has been updated to properly reflect our uncertainty.