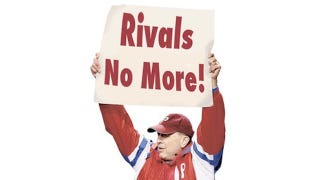 Well, this is embarrassing. The Wall Street Journal ran a story last Thursday about how Phillies fans have mellowed on the Mets. The article was a re-write of a story that appeared two days earlier in the The Philadelphia Inquirer. Fair enough. Perhaps Philadelphians behave like that now, although a deeper reporting trip into the stands would likely reveal otherwise. More embarrassing, however, is the job the WSJ did on the stock photos accompanying the story (as mentioned in WUD this morning). They reek of fakery. It's hard to imagine any self-respecting Phillies fan making a sign that says "Rivals No More!", let alone waving it aloft.
Or this lame effort: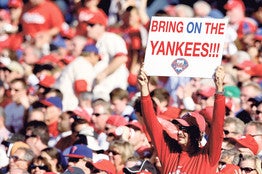 And what's with all the exclamation points? Just put an emoticon on there and be done with it. The WSJ ran a correction over the weekend: "Two photos were digitally altered to put humorous signs in the hands of fans but were not adequately labeled as photo illustrations."
Humorous?
Philly Now a Heckle-Free Zone? [The Wall Street Journal]
Inside the Phillies: Phillies, Mets are hardly rivals [The Philadelphia Inquirer]