According to Sapp, all his financial troubles are thanks to that eternal temptress, the can't-miss real estate deal. Sapp spoke to the Tampa Bay Times and elaborated on how a man who made around $60 million over his career was reducing to cataloging his sneaker and naked lady painting collections in a bankruptcy filing.
The idea was to build low-income housing in Fort Pierce in 2005. Sapp said the original agreement was the houses would not be built until a buyer had been approved for a mortgage, but one of his partners approved the construction of three houses so there would be something to market. But 2005 was not a good time for real estate, and the houses went unsold.

"It didn't go well,'' said Sapp, who has a condo in Hollywood, Fla. "At the end of the day, we owed them a million dollars, and the two numb- - - - put their heads in the sand. They went after me.''
Sapp explains that his wages at the NFL Network were garnished "100 percent" for eleven months, preventing him from paying any bills. So, the debt mounted.
"You tell me what to do,'' Sapp said. "Do you keep working without a check? If you don't pay your child support, you go to jail. This wasn't something I wanted to do. This was something I had to do.''
G/O Media may get a commission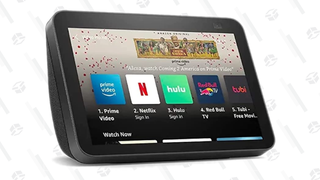 Not being familiar with Florida family law or bankruptcy law in general (and this issue not having been fleshed out in the article) I have no idea whether this is true, but it seems odd. A quick review of the more recent changes to bankruptcy law seems to suggest that child support payments are not dischargeable via bankruptcy and legal proceedings for the collection of unpaid support are no longer eligible for an "automatic stay." All of which begs the question, what is Warren Sapp talking about?
Warren Sapp speaks out on bankruptcy filing [Tampa Bay Times]