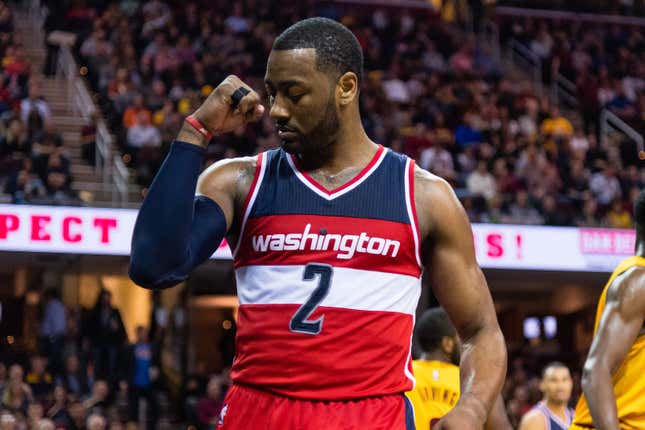 If you know a basketball fan from D.C. — not " Washington" or its metropolitan area — and ask them about John Wall, you know their eyes will light up.
'Soccer fandom is full of gatekeepers' says Ted Lasso actor Brendan Hunt
They love that dude.
However, fans don't run franchises. And while Wall may have been loved by the city, the news of the Wizards packaging him with a lottery-protected 2023 first-round pick to Houston for Russell Westbrook makes it feel like the brass in D.C. was ready to end this decade-long marriage.
If this were an equal trade, then things would be different. But the addition of that draft pick along with Westbrook, who is two years older than Wall, is a not-so-subtle way of saying, "Here, take him." Especially since ESPN's Adrian Wojnarowski is reporting that it only took a few hours for the deal to get done on Tuesday.
And then there's the money.
Did you know that Wall — who hasn't played in two seasons due to injury — and Westbrook — who was trying to overcome a quad injury and COVID-19 in the bubble — are owed a combined $265 million?
Westbrook has $133 million over three years left on his deal, while Wall has $132 million coming to him over the next three years.
When a franchise trades you for a player whose game is also built around their superior athleticism, is also coming off an injury, and has a similar contract — while also throwing in a draft pick, they just don't want you anymore, despite what they say in public.
However, if there is a silver lining in this situation it's that Wall and Westbrook both get their best friends back. In D.C., Westbrook will be reunited with Scott Brooks, the coach he's had the most personal, and team, success with. Wall gets to play with DeMarcus Cousins again, as it will be their first time together since they were teammates at Kentucky. The tandem grew close before they even showed up on campus as they followed John Calipari when he left Memphis for Kentucky.
The irony of the deal is that it was only a few years ago when the Wizards were hoping that a superstar from OKC would be joining them in free agency to go along with Wall and Bradley Beal. But the Wizards never got Kevin Durant as they wanted, and now they'll have to be happy with his former coach and running mate.
The #KD2DC movement was real.
Over the past few weeks, it's become apparent that changes were going to happen in D.C. and Houston. Harden and Westbrook were ready to move on, and Wall had become frustrated.
Some will point to an incident from September being the beginning of the end for Wall and the Wizards after he had to apologize for a video in which he was seen throwing up gang signs. Rumors swirled that management was upset that their franchise player was caught on video doing that.
Others will say it was when Wall expressed his desire to be traded, as rumors swirled that he was upset with the fact that the Wizards were prioritizing Beal as their franchise player over him.
And while all of those things may be true, in the end, this was always going to come to conclude sooner than later. That's what happens when one party doesn't desire the other the way it used to.