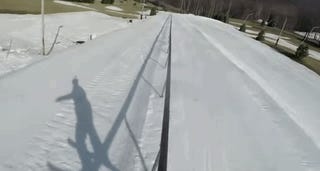 Here's the apparent formula for setting a Guinness world record, per this video of X-Games gold medalist Tom Wallisch.

1. Spend years getting to be the best at something photogenic but relatively esoteric. Free skiing ought to suffice.
2. Go into nature and accomplish something vaguely urban, to increase the degree of difficulty and barriers to entry. How about going to the side of a mountain and building a 440-foot-long rail built from five tons of steel that has to be trucked across an international border and assembled by welders in snowsuits.
3. Get a crew of dudes (all named Mike, the credits suggest) to lay down and groom a cushy layer of snow around you.
4. Try hundreds of times over several days to skid down your bespoke steel rail in high-altitude wilderness.
5. Finally nail it, achieving a strange stillness in the final stretch of the winning attempt that suggests you could've totally gone another 400 feet if you'd had that much runway.
Only guessing here, but this stunt might be the greatest moment in the history of Pennsylvania skiing.