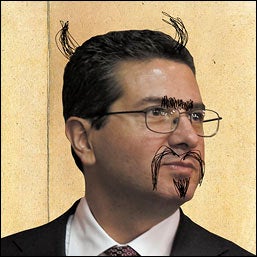 Here, once again, is Dave McKenna's brilliant "Cranky Redskins Fan's Guide to Dan Snyder," which we will be linking daily until Snyder's dumbass lawsuit gets tossed. Today's topics: vanilla ice cream, literalized metaphors, and Dan Snyder being a petulant shit.
From McKenna's story:
Vanilla: Flavor of ice cream that Snyder left to thaw in defensive coordinator Mike Nolan's office TWICE in one season to let the coach know the owner felt his schemes were simplistic, or vanilla. John Feinstein wrote that Snyder's second delivery, after a loss to Dallas, consisted of "three giant canisters of melting 31 Flavors ice cream" and a note that said "I do not like vanilla."
If you'd like to help, here's a link to the Washington City Paper's Legal Defense Fund. Also, TBD's Andrew Beaujon and Erik Wemple have a thorough analysis of Snyder's dumbass lawsuit. Their conclusion is that the suit is "nothing more than a crusade against journalistic persistence."