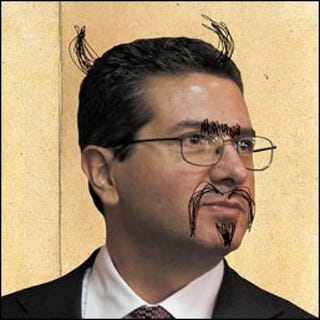 Here's your daily link to Dave McKenna's brilliant "Cranky Redskins Fan's Guide to Dan Snyder," which we'll be posting until Snyder's dumbass libel suit gets a good judicial colon cleansing. Today's topic: Charging people $15 to watch cheerleading tryouts.
No, seriously, that's what Danny's doing today in Falls Church, Va. with the "First Ladies of Football" event. There's a $25 VIP tier. The extra 10 spot probably just gives you the opportunity to have Snyder spit in your face and call you Leslie. Writes tipster Chris about an email he received from the organization:
I can go watch the final tryouts for the cheerleaders for 15 bucks cash money dance around seductively in bathing suits. I figured that the $15 bucks is about the same as the cover charge on a strip club, but those girls take their clothes off.
Now, if Mr. Snyder were to do so, $15 would be a worthwhile investment, $25 if the VIP tier allowed you to post it on YouTube.
Would you be kind enough to help the Washington City Paper out with a donation to the weekly's legal defense fund?