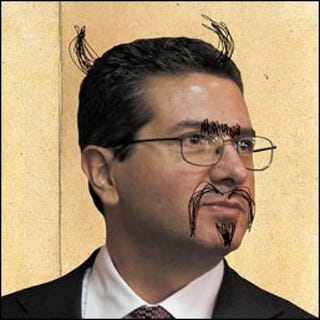 Here's your daily link to Dave McKenna's brilliant "Cranky Redskins Fan's Guide to Dan Snyder," which we'll be posting until Dan Snyder's dumbass libel suit gets ejected from the court system like the foul meconium that it is.
Shortly after Dan Snyder filed his dumbass libel suit, The Washington Post interviewed him about it.
A few selections:
My father was a journalist and, um, I've never sued anybody in the media.
[Dan Snyder has sued almost everyone who is not in the media.]
You can't call people names, criminals.
[Unless you're Dan Snyder.]
What's wrong is wrong. And this is wrong. And this guy crossed the line. He never does any homework. I don't know him. This is not personal. This is just an issue where somebody just did something flat-out wrong....I couldn't care less about him or his newspaper or what have you. What's right is right. And what's wrong is wrong. It's not right....And that's just wrong.
[Dan Snyder is almost always wrong.]
You can listen to the whole interview at The Washington Post website.
In the meantime, please help out the Washington City Paper out with a donation to the weekly's legal defense fund.
Daniel Snyder on City Paper lawsuit: 'All they had to do was apologize' [The Washington Post]