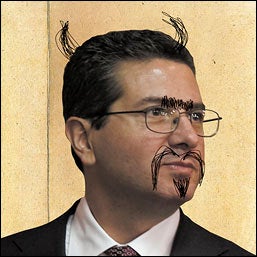 Presenting, once again, Dave McKenna's brilliant "Cranky Redskins Fan's Guide to Dan Snyder," which we will be linking daily until Snyder's dumbass lawsuit gets laughed out of court. Today's topics: Baja Fresh, propaganda, and Dan Snyder being a petulant shit.
Redskins Unfiltered: Feature on Redskins.com designed to "offer fans an a la carte menu of information," as Snyder told The New York Times in 2006. In practice, Unfiltered was mainly used to rebut everything written about the team by The Washington Post. Immediately after the Post ran a story that mentioned players eating "fast food" at Redskins Park, for example, Snyder staffer Larry Michael produced a long video in which team employees testified that Baja Fresh was NOT fast food. Unfiltered came back to haunt management when players used its video as evidence in a union grievance over "contact drills" during voluntary workouts. "You know how we caught them?" said NFLPA chief Gene Upshaw. "We saw it on their Web site."
If you'd like to help, check out Washington City Paper's Legal Defense Fund.