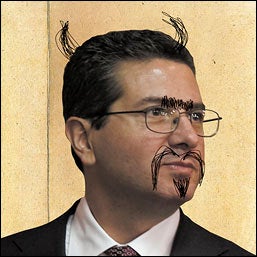 Here's your daily link to Dave McKenna's brilliant "Cranky Redskins Fan's Guide to Dan Snyder," which we'll be posting until Snyder's dumbass libel suit gets a proper defenestration. Today's topic: Dan Snyder is a self-defeatingly petulant shit.
Steinberg directs our attention to this analysis by the folks over at Tech Cocktail. The graph you see here is pretty self-explanatory: It plots the number of comments appended to McKenna's story week by week. That spike at the end represents the moment Dan Snyder became the Barbra Streisand for our times. I tend to roll my eyes whenever a media outfit kibitzes a public figure's PR — it's like the large intestine grading a fart — but, screw it, we'll do it anyway. When you're straightfacedly being paired with Hosni Mubarak as an object lesson in bad brand management, you have serious image problems. From Tech Cocktail:
The lesson that, hopefully, Hosni Mubarak and Dan Snyder are learning is that you have to acknowledge and engage with your audience, and social media not only allows for that, but invites you into the conversation — which is happening with or without you. You can't just turn it off as Mubarak tried when he shut down the Internet in Egypt last week. And you can't buy or sue every media outlet, attempting complete censorship. You can't hide the truth. But you can apologize for mistakes. You can ask for input. And you can and should engage in social media to shape the conversation — not control it. The world has become too transparent to pretend anything.
For more Snydery, read Miles Grant's "Conservationist's Guide to Hating Redskins Owner Daniel Snyder." If you'd like to help the City Paper defend itself, check out the weekly's legal defense fund.