Here's your daily link to Dave McKenna's brilliant "Cranky Redskins Fan's Guide to Dan Snyder," which we'll be posting until Snyder's dumbass libel suit gets disappeared. Today's topic: a fan's right to a homemade "Dan Snyder is a jackass" poster.
In October 2009, Snyder introduced a new policy for FedEx field: no fan signs were permitted at Redskins home games. The ban came at a time when fans, frustrated with the team's poor record and with Snyder's general existence, were particularly prone to making signs and T-shirts that did not portray the team owner in the most positive light.
Upon entering the stadium for a Washington-Tampa Bay game in October 2009, Dave Alperin said the guards told him, "'We changed the rules last night!'... The security supervisor was walking up and down and was directing all the guards in the security lines to grab the signs and was very vigorous about grabbing all the signage," Alperin told McKenna.
Dan Steinberg of the Washington Post rooted through the garbage cans outside of the stadium to see what exactly the guards had deemed offensive. One said, "Hi to my husband in Afghanistan love you."
A few weeks later, Snyder allowed team sponsor GEICO to hand out promotional signs at a game, and soon thereafter he lifted the ban completely. McKenna speculated that it had to do with yet another promotion on the horizon:
The timing of Snyder's lifting of the sign ban was grotesque, since it was announced too late for anybody going to the Denver game to even get word. Much worse: The announcement also surely has something to do with the fact that Snyder's sponsoring a fan sign contest this Friday with his sportstalker, WTEM, at Dave & Busters at White Flint Mall as part of a Redskins pep rally.
G/O Media may get a commission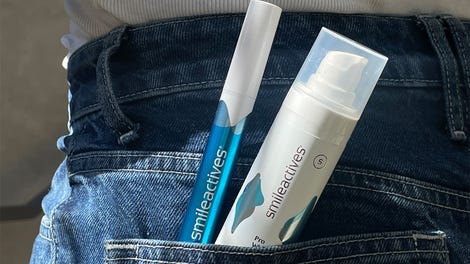 58% off
Whitening Powerhouse Pen & Gel Duo
Here's to those fallen signs. Dan Snyder sure is a petulant shit.