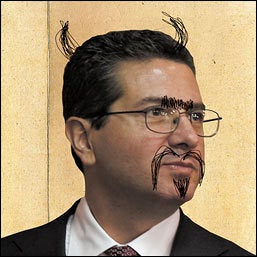 Here's your daily link to Dave McKenna's brilliant "Cranky Redskins Fan's Guide to Dan Snyder," which we'll be posting until Snyder's dumbass libel suit goes the way of the Quagga. Today, old-head Frank DeFord chimes in with an NPR segment titled, "You're A Mean One, Mr. Owner." He reserves the end of "Sweetness and Light" (check 2:14 into his 2:55 Rooney-esque amble) to the Redskins owner.
He is actually suing a Washington newspaper for daring to criticize him for running a rotten team. Excuse me, where do I go to get on the long line that criticizes Snyder for being a bad owner? ... Did you see the Westminster Kennel Club championship Tuesday night? I like those owners. They're content just owning dogs. They're happy to just pet their franchise.
Won't you consider helping the City Paper through a contribution to its legal defense fund?