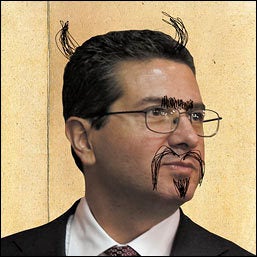 Here's your daily link to Dave McKenna's brilliant "Cranky Redskins Fan's Guide to Dan Snyder," which we'll be posting until Snyder's dumbass libel suit disappears like Jim Zorn's head-coaching authority.
Today, we share with you an E:60 segment in which Boy Wonder explains to ESPN that "I'm shy with cameras and I'm shy with media." Asked for an explanation why, he says, "I don't know. Maybe because I've been beaten up so much."
Aw, poor wittle guy, he just didn't realize buying an NFL franchise made him a public figure, it seems. "There's no instruction manual," he explains to a fawning Rachel Nichols.
There sure isn't. But, there are 2.25 million Google hits for "how to be a public figure."
If you want to help the City Paper, you needn't be shy. You don't even need a manual. You can contribute to its legal defense fund.