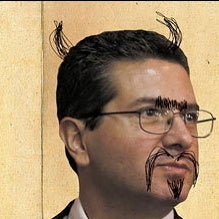 Here's your daily link to Dave McKenna's brilliant "Cranky Redskins Fan's Guide to Dan Snyder," which we'll be posting until Snyder's dumbass libel suit goes out the window like Blanket Jackson. Today: an excerpt from a recent post in Legal As She Is Spoke, a New York Law School blog, which calls Snyder's libel suit "laughable." Snyder, shall I compare thee to a mobster? Trevor Trimm does:
In the 1972 case Cardillo v. Doubleday & Co, a mobster sued a publisher for libel and the Second Circuit ruled the plaintiff's reputation was so damaged by previous publicity and criminal convictions that he should be barred as a matter of law from winning a libel decision for anything. While the Second Circuit has stated that the libel-proof plaintiff doctrine should be "sparingly applied" and Mr. Snyder's reputation doesn't rise (or sink) to the level of a mobster's, he could be barred from suing for libel by the "incremental libel-proof doctrine." If an article "contains highly damaging statements, but the plaintiff challenges only a minor assertion in the communication as false and defamatory," the plaintiff cannot maintain a libel claim.
Trimm finds it "curious that Mr. Snyder sued at all," and suspects that when the case goes to court, Snyder "will be the laughingstock of not only a small alternative weekly paper in his hometown, but [of the] Second Circuit case law as well." We look forward to that.
If you'd like to help the City Paper defend itself, check out the weekly's legal defense fund.
An Amusing Article Spawns a Laughable Libel Suit [Legal As She Is Spoke]