Welcome to Tuesday Night Fights, a weekly celebration and analysis of street-fight videos found on YouTube. Tonight's fight: "FIGHT like a BOSS ! Kampfsprung like a BOSS!" Tonight's commentator: Cory Kastle, a pro wrestler exploring his comedic chops during an extended hiatus from the ring on account of his suffering an AVM.
Kastle's reaction:
That was a pretty chaotic 26 seconds. I feel like, in one breath, I can sit and tell you how cool it was that I saw a guy using a flying (top rope) missile dropkick in a real life situation and in another breath tell you "I wish I had those 26 seconds of my life back.
Flying kicks into ditches are befuddling fight tactics, for sure.
I don't get why the two dudes were throwing sloppy haymakers on the side of a broken down Jeep Cherokee truck in the middle of a muddy pit and there was a large crowd assembled in the background. My only explanation for that to anyone who would ask me about it — and why would anybody ask me anyway? — is that I guess these people are German or something and they don't always have the best ideas.
G/O Media may get a commission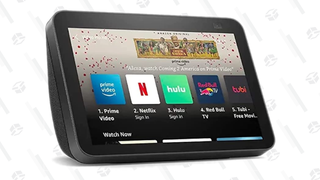 Yeah. You could say that.
What also grabs my attention is how right after the guy in the blue shirt takes the Missile Dropkick to the back of the head, the guy he was originally fighting with snuck in cheap shots while, immediately after the high flyer guy lands, some other guy comes running in, like, right away to brawl it out in a hockey fight

I wonder if these people even knew each other at all or were just looking for an excuse to have a sloppy muddy romp with some fellow Germans.
That's for the German Mud Romp fetishists to decide.
I was curious about where the whole thing was going when I saw the fellow with the checkered shorts running over at the same time as that other SUV starting its way towards the fight but then it ended and they just replayed the dropkick to the back of the head a few more times.
Back and to the left.
Cory will be back for next week's Tuesday Night Fights in which he'll break down something that can only be described as people from the future and/or space brawling in the streets of Ibiza.
And now, the rest of your Tuesday Night Fights collection:
• Der Turbanisch Punch! Which translates loosely into "two Germans enter a soccer goal donning gloves to do battle and one drops the other with a single punch." (Start of Violence, 0:02)
• Lady kicks the head, and spits in the face, of the ginger who apparently mistreated her by an outside-the-relationship dalliance. However, she pisses off erbody on the train, what with her behavior caused a delay as the po-po is called. Then, she proceeds to tussle with the responding officers. Hope the side piece was worth it, ginger. (SoV, 0:11)
• This one's called "Backwoods brawl," but they might as well rename it "Justified: Evolution." (SoV: 0:36)
• Here's your weekly Russian street fight update. It's a one-puncher, and dude. gets. dropped. hard. (SoV, 0:29)
• "Lafayette Neighbor HOOD Fight," featuring exposed breasts:
• In no particular order, Chi-Town, World Star Hip Hop, a Big Ole Ass In Pink Panties, a Bare Ass, some Angry Tiddies, a Big Girl With Balance Problems, and One Guy are ALL in tha muthafuckin' building and ain't nobody gonna stop this shit. (SoV, instantly)
• This is what it looks like when a bunch of Icehogs fight a bunch of Admirals in Milwaukee. With Fan Cam! (SoV, 10:08 of the second period)
• If this is how lawyers act in Pakistan, lawyers in Pakistan are totally more badass than lawyers in America. (SoV, 0:02)
• Shit got real at a taco truck in Oakland, yo. (SoV, 0:19)
• Others: "PCP/Crack Ninja vs. Cops." "Nowa Vs. Tahnee (with Part 2)." "I Can Cry If I want Too." "Bianca vs Debo." "Nasty Fight!!!" "Del Taco Vegas Fight." "fight over yugioh cards!!" "Fight! Get The **** Out My Room." "South Beach!" "Black Bully Gets Dropped by Fat Mexican." "Two girl fights! Shit cray!" "Doughboyz Cashout vs. Eastern Michigan students." "bitches Getting Crazy."
• Coda: "Albany fight," featuring some white kids.